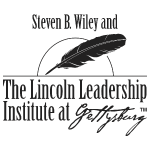 How has Lincoln inspired you?
Gettysburg, Pennsylvania (Vocus/PRWEB) February 11, 2011
Steven B. Wiley and The Lincoln Leadership Institute at Gettysburg invite the public to sign a birthday card commemorating Abraham Lincoln's 202nd birthday.
Lincoln was born on February 12, 1809 and served as our nation's 16th president from 1861 until his assassination in 1865. Milestones of Lincoln's presidential service include his 1863 signing of the Emancipation Proclamation, a document that declared slaves forever free, and his Gettysburg Address. Given in November 1863 at the dedication of a military cemetery, the Gettysburg Address is one of the most memorable speeches in American history.
Please take a moment to visit Lincoln's virtual birthday card at http://gettysburgleadership.com/birthday-card.
Simply sign your name or share your thoughts on Lincoln. How has Lincoln inspired you? Why did he have such an impact on our country?
Wiley and the Lincoln Leadership Institute apply leadership lessons from the Battle of Gettysburg to the challenges corporate and government entities face today. Thousands of government employees and corporate executives—including those from Apple, the Ford Motor Company, ExxonMobil, Pfizer Pharmaceuticals, the Department of Defense and the Department of Homeland Security—have participated in the Institute's leadership development sessions. USA Today has described Wiley's leadership development as "the most powerful performance training available," while ABC News called Wiley "the best speaker you've never heard of!"
The Institute's headquarters are located on the third floor of the David Wills House on Gettysburg's Lincoln Square; the Wills House is the home where Abraham Lincoln finished writing the Gettysburg Address.
For more information about Steve Wiley and the Lincoln Leadership Institute at Gettysburg, visit http://www.gettysburgleadership.com, "Like" the Lincoln Leadership Institute at Gettysburg on Facebook and follow LincolnLeader on Twitter.
About Steven B. Wiley
Steven B. Wiley is a proven entrepreneur, author and highly acclaimed speaker who has trained and entertained tens of thousands of top executives from around the world.
His business experience includes the founding of three companies and the successful negotiation of multi-million dollar funding agreements with some of the top venture capital organizations in the world.
Wiley brings a wealth of knowledge in the areas of successful marketing, negotiation, sales and business development. His lucrative and varied high-ticket consultative selling and negotiating, experience began more than twenty years ago and includes tens of millions of dollars in the sales of companies, divisions, hard goods and services. His strong leadership ability has earned him recognition in top publications, including Venture Magazine, USA Today and Entrepreneur Magazine. Over the past ten years, he has conducted thousands of seminars on negotiation, sales leadership and wellness for numerous public and private sector organizations.
###