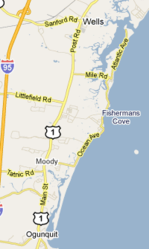 Sanford, ME (Vocus/PRWEB) February 14, 2011
Plixer International, Inc., a leading global provider of network traffic monitoring and analysis tools, is hosting FlowFest™ 2011: Advanced NetFlow Training for IT professionals on July 25-27, 2011 in Wells / Ogunquit, Maine. This conference will feature industry experts detailing how to gain network traffic insight through use of NetFlow analysis.
Plixer's software tools provide clients around the globe with a holistic view of their network infrastructure regardless of equipment vendor. Plixer tools are proactive and intuitive with some of the most advanced NetFlow collection features available, allowing IT professionals to quickly identify congestion and narrow in on the source.
During the 3-day FlowFest™ training, attendees can participate in sessions and hands-on labs for live troubleshooting on voice, video, and data traffic using hardware from numerous vendors. Participants can learn how to improve network traffic management from some of the field's most knowledgeable NetFlow and IPFIX authorities.
The conference will feature keynote speakers from both Cisco Systems and Enterasys and will cover topics such as:

Basic NetFlow 101 Configurations and Advanced Flexible NetFlow (FnF) configurations
Filtering: both include and excluding data to narrow in on problems
Understanding the Cisco ASA NetFlow exports
NetFlow and IPFIX exports from (Adtran, Enterasys, nProbe, SonicWALL and several others)
Ingress Vs. Egress NetFlow and why use them
Layer 7 Application Analysis with NetFlow (identify Skype, Facebook, Webex, BitTorrent and more)
Layer 2 Analysis including MAC addresses and VLANs
NetFlow Latency reporting from several different vendors (e.g. RTT, Jitter, Latency, Packet loss and more)
NetFlow Forensics and Network Behavior Analysis with NetFlow and IPFIX
From virtualization to borderless networks, technology specialists will provide the knowledge needed to advance the NetFlow troubleshooting abilities of IT professionals to a higher level. Instructor Michael Patterson is the Scrutinizer Product Manager, an industry expert, and an extensive NetFlow blogger. He has a Masters Degree in Computer Information Systems and was formerly an instructor at Cabletron Systems, teaching Network General Sniffer, Ethernet, ATM and Network Management.
The 3-day FlowFest™ training costs only $1,795.00 and includes the conference, continental breakfast, lunch, and a lobster bake. To register or review additional agenda information, visit Plixer's website at http://www.plixer.com or contact Plixer International at 207-324-8805.
About Plixer International
Plixer International, Inc. develops and markets network traffic monitoring and NetFlow analysis tools to the global market. All of the sFlow, IPFIX and NetFlow tools are built from the ground up with valuable feature sets and ease of use in mind. Plixer tools have been used to analyze and troubleshoot irregular network traffic patterns by IT professionals with some of the largest networks in the world, such as AT&T, Toyota, CNN, The Coca-Cola Company, Lockheed Martin, IBM, Regal Cinemas, Raytheon, and Eddie Bauer.
For product and sales information, contact Plixer International, Inc. at 1 Eagle Drive, Sanford, Maine, via telephone 207-324-8805, via fax 207-324-8683, on Facebook, on Twitter, or through the Plixer website at http://www.plixer.com.
####