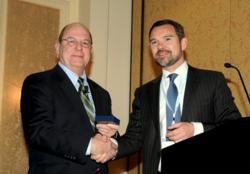 Our summit produced a clear consensus to expand our work together to research and develop world-class technology that serves the needs of both propane consumers and businesses worldwide.
Washington (Vocus/PRWEB) February 11, 2011
World leaders of the propane industry convened here this week for the World LP Gas Association (WLPGA) North American-European regional summit, called LP Gas: Exceptional Energy for North America and Europe.
At this important stop in a global series of summits, the Propane Education & Research Council (PERC), headquartered here, co-hosted delegates from Africa, Asia, Australia, Europe, and North and South America to foster greater global collaboration and innovation in developing promising propane utilization technologies. PERC received a WLPGA Distinguished Service Award for its leadership in the research and development of propane technology. It was the first time WLPGA had given the award to an organization and not an individual industry contributor, according to WLPGA Managing Director and CEO James Rockall.
"It was an honor for PERC to host this summit and welcome propane business leaders and manufacturers from around the world who are committed to improving energy efficiency and environmental performance through commercializing advanced propane technologies," said PERC President and CEO Roy Willis, who welcomed delegates and later served as an event panelist. "Our summit produced a clear consensus to expand our work together to research and develop world-class technology that serves the needs of both propane consumers and businesses worldwide."
Summit delegates received a report from ICF International Vice President Bruce Henning that forecasts growing U.S. propane supplies from the development of abundant natural gas shale resources, much of which contains significant quantities of propane and other natural gas liquids. "This is good news for consumers," Willis said. "Growing supplies create a practical, affordable clean energy opportunity for homeowners, farmers, and businesses that will help the United States become more energy self-reliant."
During separate sessions on the future of North American and European propane markets, summit delegates explored issues crucial to the continued success of propane autogas markets. The consensus was that the markets, while diverse, are more similar than they are different. "Consistent government policies, continued research for state-of-the-art fuel systems, and expansion of refueling infrastructure are vital to sustaining propane autogas as the world's, and America's, leading alternative to gasoline and diesel," Willis said.
The North American market for vehicles fueled by propane autogas is gaining momentum as more fleet operators become aware of the environmental and economic advantages of switching to propane autogas. North American industry leaders like Roush CleanTech, CleanFuel USA, Blossman Gas, Ferrellgas, Autogas for America, and Alliance AutoGas addressed the high environmental and performance characteristics of propane autogas vehicles. That includes horsepower, torque, and towing ratings that are virtually identical to gasoline, with significant reductions in greenhouse gas emissions.
U.S. propane industry leaders recently agreed to use the term "propane autogas" to identify propane that fuels on-road vehicles. Already widely used globally, the autogas moniker will now be used in the United States to distinguish on-road engine fuel from home heating fuel and off-road engine fuel. With more than 15 million vehicles fueled by propane autogas on the road worldwide, including 270,000 in the United States, propane autogas is the world's most widely used alternative transportation fuel.
Summit delegates learned about availability of new vehicle platforms fueled by propane autogas from well-known manufacturers like Roush CleanTech, CleanFuel USA, and General Motors. Delegates also learned about new and anticipated manufacturer and aftermarket vehicle offerings from Blue Bird Corp., Alliance AutoGas, Impco/BRC, Collins Bus Corp., Thomas Built Buses, and Freightliner. PERC will continue to provide funding in 2011 to assist with new product development, including eight new vehicle platforms currently being developed.
More information about the propane industry can be found at http://www.propanecouncil.org, and specific information about propane autogas can be found at http://www.autogasusa.org. For more information on the World LP Gas Association, visit http://www.worldlpgas.com.
# # #