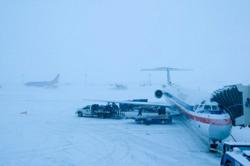 A long arrival delay due to a covered hazard can trigger Trip Cancellation when 50% or more of the trip's duration is missed.
East Hartford, CT (Vocus/PRWEB) February 15, 2011
Everyone is looking for a short getaway trip after the wearisome winter of serial snowstorms. President's Day, Spring breaks, and Passover and Easter holidays are looming on the calendar with opportunities to put winter behind with three or four-day travel escapes.
Yet the risk of weather and airline-related trip delays never disappears even when brief journeys are booked with shorter planning and lead time than a longer vacation.
Travel Insured International®, a leading privately-owned travel insurance provider, says many travelers overlook insurance for a short trip, but still face big disappointment when a brief weekend or holiday getaway is disrupted. In many cases the delayed or cancelled getaway trip was booked as a travel sale package not easily replaced. However, disappointment is easier when prepaid getaway travel costs and unplanned added expenses are reimbursed by travel insurance instead of being lost in a storm, an auto accident delay, or with travel documents gone missing.
The solution bringing added value to trip insurance for short getaway travel is a covered Trip Cancellation reason now included in the Worldwide Trip Protector or Worldwide Trip Protector Gold comprehensive plans from Travel Insured. Insured travelers can be reimbursed for up to the full, prepaid and non-refundable cost of their trips when an arrival delay on the covered trip causes them to lose 50% or more of the scheduled trip duration due to one of the "hazard" reasons covered under Travel Insured's Trip Delay benefit.
Hazards Included as Covered Reasons
The hazards covered by Trip Delay include: • Any delay of a common carrier, including for inclement weather. • Any documented delay caused by a traffic accident en route to a departure in which the insured or his or her travel companion is either directly or not directly involved. • Any delay due to lost or stolen passports, travel documents or money, or a quarantine, hijacking, unannounced strike, or a natural disaster.
The above coverage is in addition to an existing Trip Cancellation coverage that may reimburse up to the full cost of the trip if weather causes complete cessation of the insured's common carrier service for at least 24 consecutive hours. Note that Travel Insured's Worldwide Trip Protector and Worldwide Trip Protector Gold plans also include Trip Delay reimbursement of up to $200 per day, to the limit specified on each plan. It can apply to coverage for unforeseen meal and lodging expenses.
The impact of the Travel Insured International®, coverage is that a long-delayed arrival on a trip due to one of the hazards could trigger coverage for Trip Cancellation when the result is half or more of the trip duration being missed. A covered airline delay, for example, preventing possible arrival at the destination until the afternoon of the second day of two-night getaway would potentially qualify for full Trip Cancelation. The same coverage could apply if the first two nights of a three-night trip would be missed due to the covered delay. Considering that 2011 winter storms have shut down several U.S. airports for two days or more, and the 2010 Iceland volcano eruption prevented arrivals in northern European cities for a week or more, unforeseen risks must be considered when making any travel booking.
Nothing in life is quite as pleasurable as a smooth travel getaway after a winter of cabin fever. Yet nothing is as disappointing as a well-planned getaway foiled by unforeseen trip delays. Travel Insured International® provides the reimbursable coverage to help you get out of town when travel conditions are favorable.
About Travel Insured International®
Travel Insured International®, based in E. Hartford, CT, was founded in 1994 by the foresight of insurance industry executive Peter Gehris when he acquired the travel protection division of the Travelers Insurance Company. Coverage is underwritten by Arch Insurance Company (a Missouri corporation, NAIC #11150) with executive offices located in Jersey City, NJ. Arch Insurance is rated A ("Excellent") for financial strength by the insurance rating service A.M. Best. Not all insurance products or coverage is available in all jurisdictions. Coverage is subject to actual policy language
Travel Insured International®
52-S Oakland Ave.
E. Hartford, CT 06128-0568
Contact: John Stone
Media Relations Manager
http://www.travelinsured.com
# # #