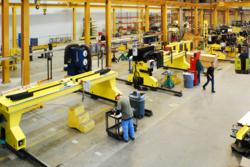 This new concept allows us to deliver customer-specified machines faster with superior quality, performance and value.
Florence, SC (Vocus/PRWEB) February 15, 2011
ESAB Cutting Systems introduces its new modular manufacturing capability for production of cutting machines to the North American market. This new facility boasts the capability of assembling, testing and shipping a fully configured cutting machine within a four- to six-week lead time. This achievement is the culmination of 18 months of hard work, investment and reorganization that has taken place at the Florence, South Carolina, facility.
In 2009, ESAB announced a global restructuring designed to improve efficiency of manufacturing. This new strategy includes a modular approach to the cutting system product line and allows ESAB to offer standard platforms that can combine in a variety of configurations to meet the needs of the individual customer. Modular manufacturing avoids the high cost of custom engineering and allows ESAB to deliver the best cutting solution to the customer in less time than ever before. This modular design also allows for easier updating of the machine as customer needs change. ESAB will continue to offer custom-engineered mechanized cutting solutions for unique applications.
Following the announcement of this global restructuring plan, ESAB invested heavily in a new organizational structure and the modular product line. New manufacturing methodology and processes are now in place in Florence, where lean manufacturing techniques and practices combine with the new modularized product line to allow ESAB Cutting Systems to deliver greater value with shorter lead times. The output of this facility will soon be available on the small, medium, and large gantry CNC cutting machine product lines.
ESAB's global engineering capabilities collaborated on the re-engineered products, creating designs that can be produced in higher quantities to be used in ESAB's assembly plants around the world. By combining global volumes and eliminating overlapping designs, the new global modules can be built at a lower cost and used in common global machine designs, creating many efficiencies within the organization, such as reduced training, consistent documentation, and improved service.
ESAB's Florence facility is the first of its worldwide assembly plants to be fully geared up to produce plasma and oxy-fuel cutting machines using the new global modular design concepts. Florence is also ESAB's "global center of excellence" for plasma systems, and all research, design and engineering of plasma torches and process are conducted there. All sales and support services for the North American cutting market are also based in Florence.
"This new concept coupled with our organizational transition allows us to deliver customer-specified machines into their operations faster with superior quality, performance and value. We can more rapidly respond to changing market conditions while maintaining stable operational performance," says John Derzy, Vice President and Commercial Director for North American Cutting.
Rohan Chinchani, ESAB Cutting System's Manufacturing Engineer and Lean Champion, adds, "We have implemented many lean manufacturing tools, such as problem solving techniques and Comm Cells that prioritize safety and quality. We also have a newly designed floor layout using lean assembly techniques that will reduce manufacturing time and cost."
"ESAB has invested heavily in this new organization and modular design strategy," says Andrew Masterman, CEO of ESAB North America. "We are committed to and focused on strengthening our presence in the North American market and continue to invest thousands of hours a month in technical resources from our Florence, South Carolina, base in supporting our new direction. ESAB's commitment to mechanized cutting is as strong as ever and we are dedicated to bringing the best combination of technology, cost and customer service to our customers."
ESAB Welding & Cutting Products is one of the world's largest and most experienced manufacturers of welding and cutting equipment and welding filler metals. Recognized as the technological leader in the industry, ESAB is committed to providing cost effective solutions for its customers. For more information on cutting system solutions, visit http://www.esabna.com, http://www.esabcutting.com or call 1-800-ESAB-123.
# # #