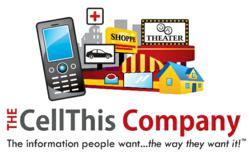 There's a story behind every used car or truck, and buyers want to hear those stories.
Marion, IL (Vocus/PRWEB) February 14, 2011
Buyers who are shopping for a used car or truck want to get all the information they can get about it before speaking with a salesperson. Dealers who recognize that fact and are willing to give buyers what they want can capture more high quality leads and increase their odds of converting those leads to sales. Now dealers can quickly and easily tell buyers the story behind each of their used vehicles and capture the leads who listen to those stories, using the CellThis marketing system (Patent pending).
With CellThis dealers can tell buyers about a vehicle's price, mileage, warranty, service history and AutoCheck or CarFax record. They can also tell buyers about its previous ownership and describe all its special features. Stories can be short ones told in just a few words or long ones that take 1,000 words to tell. The stories can be told by using the built in automatic text to speech conversion features of CellThis, or dealers can record and upload their own stories.
With the unique CellThis marketing system dealers can:
1. Assign different extension numbers to the used vehicles on their lot and create customized information for callers to hear when they dial those numbers
2. Display the assigned extension number on the vehicle and feature the vehicle's extension numbers in their print ads and television commercials
3. Capture every calling number and get instant notification of the call
4. Automatically send callers text messages containing coupons or special offers
5. Automatically direct callers to a vehicle's dedicated CellThis webpage for additional information
6. Automatically build a database of opt-in cell phone numbers for future targeted mobile marketing campaigns
Dealers can choose from a variety of CellThis plans, with prices starting at only $40.00 per month for dealers using the generic site. Vanity sites featuring the name of the dealership are also available. Dealers who choose a vanity CellThis site may be able to defray all or part of their costs by selling banner and other advertising to local lenders, insurance agencies and others.
Dealers who want to take a test drive of the CellThis marketing system can visit http://www.cellthisdealer.com and log in using this information: User ID: "demo". Password: "password".
The CellThis Company's marketing method combines voice, text and the internet to provide automobile dealers with an affordable, cost effective, results effective way to market used (and new) vehicles. Among the innovations of its patent pending program is a unique feature that automatically creates a new web page each time a different extension is activated.
# # #