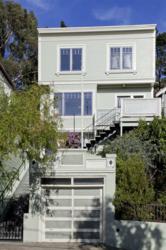 It is a beautiful home built by a talented carpenter for his family that enjoyed its comfort and safety for 72 years and then passed it on to another family
San Francisco CA (Vocus/PRWEB) February 12, 2011
Allan Carson Brown was born in Quaco, New Brunswick, Canada in 1872 to a family of ship builders at the Bay of Fundy. His father died when he was very young leaving his mother to raise her 4 children alone while she worked in a local shop.
After a single sailing trip to England as a cabin boy at the age of 13, Allan decided he would make his fortune another way and at the age of 15 he left his home in New Brunswick and made his way to Boston to work as a carpenter. It was there he first met Sarah MacPherson, who herself had emigrated from Prince Edward Island, Canada. They were smitten with each other at first sight!
Sometime after the 1906 earthquake, when the building industry was booming, Allan made his way to San Francisco to work. By that time, he was an accomplished carpenter specializing in "finish" work and had become quite talented working with wood.
When Allan (Pa) and Sarah decided to build their home, the hills of Glen Park was a logical choice for such a craftsman because of the red rock. Allan knew a home built on such rock would withstand the forces of nature no matter what size the earthquake. Allan spent years excavating the hillside and building his family home at 40 Sussex Street. His talent and craftsmanship are evident in the detail of the woodwork. Allan spent about 1 year installing each hardwood floor in every room at 40 Sussex St. He followed a pattern book, measured, cut, assembled and glued each floor, all with intricate borders, and some with inlaid patterns entirely.
In 1917 Allan and Sarah Brown moved into 40 Sussex Street. with their 5 year old daughter, Helen. They raised two daughters in that home. Allan had a small workshop in the basement where he spent leisure hours making furniture, inlaid boxes and bowls with lids, and a few musical instruments such as violins, mandolins, etc.
Helen and Dave Lindt continued to live in the Brown family home and raised their own children. Four generations of the family have come and gone from Pa's house at 40 Sussex Street. When the stairs became troublesome for Helen in her later years, she made the difficult decision to leave San Francisco and lovingly prepare 40 Sussex for sale.
It should be noted that immediately after the 1989 there was NOT EVEN ONE CRACK in any wall of the house! Wow! Unbelievable, but true!
While 40 Sussex is not a grand estate, it is a beautiful home lovingly and ably built by a talented carpenter for his family that enjoyed its comfort and safety for 72 years and then passed it on to another family that enjoyed its comfort and safety for 20 years.
# # #