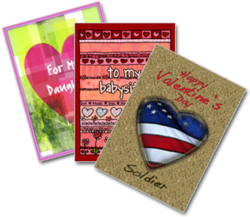 Today's Valentine's Day is a special day to express your love for anyone you care about – your children, grandparents, aunts, uncles, step-dad, and more. And even for special people outside of the family circle like neighbors, teachers, and co-workers
San Ramon, Ca (Vocus/PRWEB) February 14, 2011
Traditionally Valentine's Day has been a holiday strictly for lovers. An entire day devoted to the willful, and often times obligatory, gestures of romance expressed by the showering of flowers, chocolate treats, heart-shaped sweets, and glittery, sentimental greeting cards.
According to the Valentine's Day greeting card sales at GreetingCardUniverse.com, that tradition still stands but has evolved. "Valentine's Day is clearly not just for lovers anymore," notes Mindy Rosso, Director of Marketing and Community Manager at GreetingCardUniverse.com. "The sentiment of the holiday goes far beyond expressions of romantic love for your spouse or significant other. Today's Valentine's Day is a special day to express your love for anyone you care about – your children, grandparents, aunts, uncles, step-dad, and more. And even for special people outside of the family circle like neighbors, teachers, co-workers and yes, even the neighborhood postman and school bus driver. "
"We are seeing a variety of cards for different relations sell very well," continues Rosso. "GreetingCardUniverse.com's card sales in units and revenue both grew by an impressive 83% comparing January 2010 to January 2011. Order size grew as well by 10%. Shoppers come for a traditional or generic card but when they see the range of cards that GreetingCardUniverse.com offers they buy a variety of cards for specific relationships."
With a growing and eclectic collection of greeting cards, nearly 500,000, GreetingCardUniverse.com has something for everyone. If a shopper can't find exactly what they're looking for they can request a custom card from GreetingCardUniverse.com's community of freelance artists, at no additional cost, that will be available typically within 48 hours.
Offering all the traditional cards throughout the year GreetingCardUniverse.com however has really made their mark by offering those hard to find cards, cards that can't be found at a neighborhood card store. For example gay and lesbian cards, from secret admirer or secret pal cards, birth and step family cards and even from the family pet cards for all occasions and holidays, not just Valentine's Day. With GreetingCardUniverse.com's recent site redesign also meant a new and fitting tagline, "any card imaginable", which has truly become their niche in the paper greeting card industry.
See a recent Wall Street Journal featuring GreetingCardUniverse.com Happy Valentine's Co-Worker and Work Spouse cards.
# # #