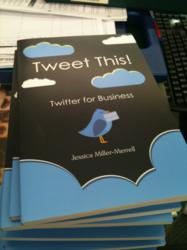 (Vocus/PRWEB) February 11, 2011
Social media expert Jessica Miller-Merrell celebrates the power of hope at the special 2-11 campaign and donates two dollars from each book sale of "Tweet This: Twitter for Business!" to HeartLine Oklahoma, a nonprofit organization that touches the lives of countless people in crisis. Her special sale will last till March 11, 2011 and a portion of the proceeds from her book sale will go to HeartLine.
According to Jessica Miller-Merrell, "HeartLine connects Oklahomans to help, hope and information - 24 hours a day. It touches the lives of people in crisis and gives them hope".
Miller-Merrell wants you to consider an active participation in this event because every dollar given, gives the chance of life to a stranger.
HeartLine is all about compassion and it is about the hearts they touch. From suicide prevention to gambling addiction programs, HeartLine has been serving the community for over 40 years saving and restoring the lives of thousands of people.
Tom Taylor, HeartLine Executive Director & CEO said, "As HeartLine enters its 40th year of operation in 2011, it is due in large part to the generosity, blood, sweat, and tears of dedicated volunteers, board members, community partners, and staff members that carry the "heart" of our organization through the bad times as well as the good times".
For Jessica Miller-Merrell, HeartLine is very dear to her heart. Miller-Merrell believes everyone has an opportunity to give. Her book, "Tweet This: Twitter Twitter for Business!" is a great choice for any business owner who wants to embrace the power of Twitter, a leading social media platform.
Jessica Miller-Merrel plans to make a huge influence on nonprofit organizations, enabling them to reach out to the community using the power of social media.
Her book "Tweet This: Twitter for Business!" is a perfect gift for any business and it is a gift of hope for HeartLine. It is one of her ways to help stop desperation, prevent tragedies and bring people together.
Jessica Miller-Merrell encourages people to donate by texting, calling or even donating online. She adds, "This book is a great educational guide to show local businesses how to connect the community online using social media, build brand awareness, serve awesome causes like HeartLine Oklahoma and grow your business".
The book covers many important aspects of the fastest growing social media networking platform:

It gives the most basic guidelines to follow
It provides over 40 case studies of individuals and companies
It includes marketing plans
Twitter legal guidelines
How to build trust among followers
Twitter tools to grow your business that increase traffic and the follower count
How to manage your brand and much more
For business tips and advice, go to the Jessica Miller–Merrell website and claim a free report http://blogging4jobs.com/.
Savvy entrepreneurs, consultants and small business owners can take advantage of this special sale and make a difference in someone's life by purchasing "Tweet This: Twitter for Business!" at http://tweetingmybusiness.com/.
For the Media: Jessica Miller-Merrell is available for expert quotes, speaking and consulting. Contact Jessica via email at jessica(at)xceptionalhr(dot)com or by phone at 405.912.4885.
Publicist: Tatyana Gann 615.354-7625
About Jessica Miller-Merrell
Jessica is a leading voice in the HR social media community and has over 10 years of experience in human resources and recruiting. She hosts the first and only Internet web-show for job seekers on Mingle Media TV called Job Search Secrets. Her book, Tweet This! Twitter for Business was released in February 2010. Jessica has been quoted in publications as an expert including Glamour Magazine, Entrepreneur Magazine, and SHRM's HR Magazine. She is a hostess of Job Search Secrets With Jessica Miller Merrell podcast.
Jessica is a sought after speaker about human resource's role in social media and has spoken at SHRM's Leadership Conference, HR Southwest Conference, and HR Florida Conference. She will be leading a 4 hour "Social Media Bootcamp" at the 2011 SHRM National Conference in Las Vegas, NV.
Complete bio can be downloaded on Blogging4jobs.com