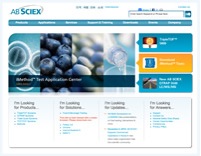 We couldn't have completed it without them.
San Jose, Calif. (Vocus/PRWEB) February 15, 2011
HiveMind Marketing, Inc. rolled out another new website today—its second in 2011—this time for Foster City-based analytical instruments client AB SCIEX. The redesigned website (http://www.absciex.com) is "highly-connected," featuring a custom design and powerful subsystems that tightly integrate faceted search functionality, information management, and demand generation capabilities to provide an online experience unmatched in the biotechnology industry.
"In Phase I, our goal was to reorganize the prodigious volume of information AB SCIEX provides its customers, providing a new UI that flattens the information architecture and allows web visitors to reach important information in fewer clicks," said Tom Lauck, CEO and Chief Creative Officer of HiveMind Marketing. "We wrapped that architecture in a sweet UI that not only appeals to their audiences but also aligns with the company's existing visual brand identity."
The AB SCIEX website was built around the versatile Ingeniux content management system, which enables non-HTML proficient staff to update information—including press releases, product descriptions, training courses, and events—without involving IT or outside vendors. Featuring web-based AJAX clients, in-context XML editing, integrated analytics, dynamic delivery options, and a powerful taxonomy-based tagging system, the platform delivers a world-class web experience.
Keith Osiewicz, Senior Web Marketing Manager at AB SCIEX, states: "We were interested in creating a new web experience for our customers, and we needed a web design firm that could adapt to our changing needs and requirements. HiveMind Marketing's cross-functional skill sets, including experience with Ingeniux, lead generation, search marketing, and even marketing automation, have been instrumental in helping us achieve our vision for a world-class website. We couldn't have completed it without them."
According to Osiewicz, Phase II development will add translation capabilities, creating multiple language versions of the site all managed by the CMS. Tom Lauck adds: "We're confident that we can create a stellar experience for AB SCIEX international customers. And, we can support that launch with marketing strategies that drive demand and increase engagement on a global scale."
About AB SCIEX
AB SCIEX is a global leader in the development of life science analytical technologies that help answer complex scientific challenges. The company provides scientific instrumentation, software and services used to discover new drugs, advance medical science and protect the food supply and the environment. AB SCIEX technology solutions combine the highest performance with the highest reliability to enable our customers to fuel scientific discovery, deliver results with confidence and improve the quality of life. The company has a more than 20-year history of innovation and market leadership as the former Applied Biosystems/MDS Analytical Technologies joint venture. For more information about AB SCIEX, go to http://www.absciex.com. Follow AB SCIEX on Twitter @ABSCIEX and on Facebook.
About HiveMind Marketing
Founded by Tom Lauck, HiveMind Marketing, Inc. is a digital marketing agency that integrates web design and development, as well as email, search, and social media marketing to help companies generate and increase demand. The agency believes that marketing addresses an integrated system of audiences, messages, objectives, and tactics, and that the success of the system is related to the integrity and interconnections of its parts. While isolated tactical efforts can generate results, they make little difference in the context of high-level marketing objectives: building demand, generating leads, creating customers, and establishing champions. To make that difference, marketing efforts must include an understanding of the interconnections among audiences, messages, objectives, and tactics. With its intellectually curios, helplessly creative, and problem-solving nature, extensive experience, and commitment to best practices, HiveMind Marketing produces remarkable campaigns that deliver sweet results. For more information, visit http://www.hivemindinc.com.
# # #