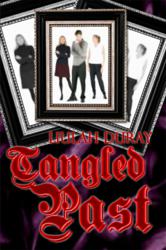 Port Dickson, Malaysia (Vocus/PRWEB) February 13, 2011
Tangled Past, a new book by Liulah Duray, has been released by RoseDog Books.
When thirteen-year-old Caroline fell in love with eighteen-year-old Alexander, the son of her father's partner, she was too young to handle it. Her jealousy of his girlfriends drove them apart. They meet again fifteen years later as business partners. Caroline is unable to forget him. Alexander remains distrustful and wary of Caroline. Their situation takes a dramatic turn when his father insists he marries Caroline. How will he and his girlfriend Sheila, who refuses to give him up, react?
While working as a doctor Liulah Duray came across young drug addicts who were caught in a situation they were unable to get out of. They were desperate and wanted to give it up. They felt bad about what they were putting their families through, but it was not easy to give it up. The hold the drugs had on them made them do things they would not normally do. Duray wants readers to realize that it is a hard task fighting drug addiction. It is easier to refuse the first temptation than to give it up.
Tangled Past is a 204-page paperback with a retail price of $22.00. The ISBN is 978-1-4349-8183-7. It was published by RoseDog Books of Pittsburgh, Pennsylvania. For more information or to request a review copy, please visit our virtual pressroom at http://www.rosedog.com/pressroom or our online bookstore at http://www.rosedogbookstore.com.
# # #