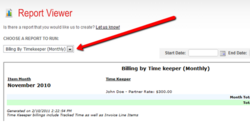 Buffalo, NY (Vocus/PRWEB) February 17, 2011
Two new features have been added to the Easy Legal Billing software, making legal invoicing easier than ever. Now lawyers and law firms can input both discounts and reporting to legal invoices. These improvements comply with the LEDES standard as LEDES files can still be created with one click!
The first addition to the software is the ability to discount directly into legal invoices. This allows users the ability to take a percentage discount off of the invoice without altering any line items listed as expenses. If no discounts exist, the invoice will simply not show a discount at all as the discount field will be left off entirely.
The second addition is a new legal reporting feature, which allows users to create reports into the following types:

Reports by client
Reports by matter
Reports by timekeeper.
Reports can be generated for a specific time period for easy record lookup. Once you have created a report, it can easily be quickly printed or converted into a downloadable Excel file.
Easy Legal Billing was created to make extremely simple and intuitive e-billing. EasyLegalBilling.com is a 100% web-based software that allows any and all internet connected computer to access accounts, no matter where you are located. This legal time and billing software includes features such as military grade encryption, LEDES compliant billing, time tracking, ability to edit the line item order, sending invoices with attachments, and the software is completely Mac compatible.
Our mission is to provide the easiest to use web-based legal billing software on the planet. As well as creating the best software, it is our goal to provide excellent support in both tutorials and customer service. We would like to see each of our customer's think of their legal billing software as an afterthought due to the sheer simplicity and ease of use that we provide.
About Cypress North Inc
Founded in 2010, Cypress North is a New York based start-up that is focused on creating helpful web applications. Cypress North has a focus on leveraging cutting edge technologies to increase usability and performance for web-based software.
# # #