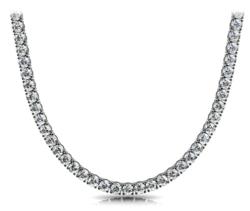 Starting at just $1,800, there is a classic diamond necklace for everyone and every budget.
San Diego, CA (Vocus/PRWEB) February 14, 2011
Anjolee announced two new diamond tennis necklace designs, style number N370-R and style number N369-R on their website. Both of these necklaces are classified as 'Riviera' style diamond necklaces. The diamonds are non-graduated and are the same size all the way around the strand. When every diamond in a necklace is the exact same carat weight, the end result is quite stunning. The features of the N370-R design include a high quality three prong setting, with a very small gap in between each link. This beautiful diamond necklace emphasizes shimmering diamonds. This Riviera necklace design is available in four sizes ranging from 10 carats to over 22 carats.
The second new design is style number N369-R. This four prong Riviera diamond necklace features a seamless row of diamonds, of equal size all the way around the neck. The available sizes range start at 13.5 carats up to 25 carats of dazzling diamond bliss!
Anjolee makes the standard 16" length necklace but can create a custom necklace by simply modifying any necklace design to the length needed. As you customize your necklace by metal type, diamond quality and size, simply modify the necklace length in step 4. The effective diamond quantity and gold or platinum weight will also change as you modify the length in either direction.
All of Anjolee's diamond necklaces can be fully customized by favorite metal type (10k, 14k, 18k gold or platinum), choice of six diamond qualities, size and length. Starting at just $1,800, there is a classic diamond necklace for everyone and every budget.
Anjolee's complete line of diamond necklaces and pendants now includes the breathtaking riviera diamond necklace , classic diamond tennis necklaces, and popular diamond pendant necklaces. A diamond tennis necklace is the most elegant way to dress up because the sparkle simply illuminates as it surrounds your neckline, adding amazing detail to your attire. All diamond necklaces can be made in different metal types including white or yellow gold and platinum. A diamond tennis necklace is one of the loveliest jewelry items to own.
For more information about diamond pendants and necklaces, visit http://www.anjolee.com today
###