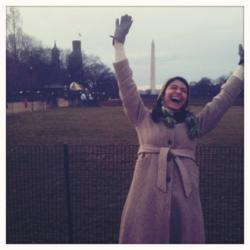 "People who support organic products need to do a better job of getting the message out and educating others on the benefits of organic agriculture, not just for eating, but for the environment, too."
Norway, Iowa (Vocus/PRWEB) February 15, 2011
By the time Michelle Obama and her daughters planted an organic vegetable garden at the White House, interest in and sales of organic foods were already on the upswing. With the First Lady encouraging everyone to eat healthier foods, one segment of society has a bigger challenge in accomplishing that – lower-income households.
To help solve the problem of limited access to fresh, affordable organic food in urban areas is the mission of Evelyn Rosas. After receiving the Simply Organic Scholarship Award for the Apprenticeship in Ecological Horticulture at the University of California Santa Cruz, Ms. Rosas joined one of three dozen aspiring organic farmers planting, cultivating and harvesting organic crops on a 25-acre farm at UCSC. She planned to return home to Texas to begin putting her mission into action.
However, Rosas is now making a brief detour to Washington, D.C. There, she is doing a three-month internship with the policy office of the Organic Farming Research Foundation. "I'm not shying away from farming," emphasizes Rosas. "Rather, I'm becoming a more informed and active farmer, so I can better express the needs of organic farmers through advocacy groups while improving availability of organically grown food to low-income households."
"I'm very concerned about the members of Congress who are dubious about organic farming, and their lack of education about the many benefits of organic agriculture," Rosas laments. "People who support organic products need to do a better job of getting the message out and educating others on the benefits of organic agriculture, not just for eating, but for the environment."
In the Chicago, Illinois, area near her home, Rosas witnessed the immense community impact of City Farm, a non-profit urban farm, and Urban Roots, a non-profit farm program for youth. That fueled her desire to establish organic farms that serve urban areas. "My scholarship to the UCSC program enabled me to pursue my dream," she confirmed.
Simply Organic and Frontier Natural Products Co-op™ established this scholarship award in perpetuity back in December of 2009, and Rosas was the first recipient. The two organizations made a combined contribution of $130,000 to the UCSC Center for Agroecology and Sustainable Food Systems. The Frontier Foundation™ donated $60,000, and the remaining $70,000 came from the Simply Organic One Percent Fund(SO1%), which is generated by one percent of sales on all Simply Organic products.
Each year, one apprentice receives tuition assistance to learn organic farming techniques; develop and evaluate new ideas to tackle issues of inequality in the food system; and integrate research, education and public service to transform the food system.
"The UCSC apprenticeship is the premier sustainable and organic training program in the U.S.," says Kathy Larson, Vice President of Sustainability at Frontier. "Our scholarship empowers a new generation of sustainable agricultural leaders, who otherwise might not have the opportunity to participate in advanced training and contribute to the organic community."
Simply Organic®
Simply Organic®, an all-organic brand from Frontier Natural Products Co-op™, offers an extensive and growing selection of certified organic spices, seasonings, baking flavors and mixes while supporting organic agriculture around the globe. By providing the best available organic seasonings and donating one percent of sales to organic agriculture and education, Simply Organic genuinely offers "Simply Healthy Living. Simply Great Taste." Find out more about Simply Organic at http://www.simplyorganicfoods.com.
Frontier Natural Products Co-op™
Founded in 1976 and based in Norway, Iowa, Frontier Natural Products Co-op™ offers a full line of natural and organic products under the Frontier, Simply Organic®, Aura Cacia® and Aura Cacia Organics® brands. Products include culinary herbs, spices and baking flavors; bulk herbs and spices; and natural and organic aromatherapy products. Frontier's goal is to provide consumers with the highest-quality organic and natural products while supporting and promoting environmental and social responsibility. For more information, visit Frontier's website at http://www.frontiercoop.com.
# # #