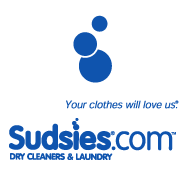 "South Floridians are busy. The last thing they want to do it rush through their spare moments on errand runs," says Sudsies Founder and CEO Jason Loeb.
Miami Beach, FL (Vocus/PRWEB) February 14, 2011
In bustling South Florida, demanding work schedules, family ties and other obligations tug at its residents more than ever. Recognizing the increasing challenge to manage daily responsibilities, Sudsies Dry Cleaners & Laundry now offers complimentary pick-up and delivery service to its clientele across Miami-Dade, Broward and Palm Beach counties. The program is rooted in ease-of-use and flexible scheduling so that customers can enjoy their free time with leisure rather than chores. Surpassing customers' expectations is the number one goal for Sudsies in 2011.
"South Floridians are busy. The last thing they want to do is rush through their spare moments on errand runs," says Sudsies Founder and CEO Jason Loeb. "At Sudsies, we aim to make our customers look good, but also feel good - and that means giving them peace of mind with friendly, personalized service that's available whenever and wherever convenient for them."
The Sudsies fleet of 15 vans cover every neighborhood in the tri-county area Monday through Saturday with pick-up and delivery to residences, condominiums, office buildings and yachts. Customers can schedule their preferred times with just a click of the mouse on the dry cleaner's website, where they can also manage their personal account, track the status of their order and make special requests. For added convenience, scheduling can be done via email or phone to the customer service department at info(at)sudsies(dot)com and 305.864.3279. Those with predictable loads can arrange regularly scheduled services on a daily, bi-weekly or weekly basis in advance. Pick-up and delivery options extend to all garments, bedding and home furnishing fabrics and is included with all services such as dry cleaning, laundry, restoration and alterations. Once picked-up, clothing and specialty items are brought to Sudsies' eco-friendly facility, where a team of seasoned professionals oversee gentle, yet effective procedures that are safe for both the environment and respective fabric. Freshly cleaned, pressed or repaired items are returned within 72 hours; however, unique rush requests are accommodated.
Sudsies is the first South Florida dry cleaner to offer complimentary pick-up and dry cleaning delivery. The service is a core part in the company's effort to expand its customer commitment beyond providing clean clothes by combining its quality product with friendly, impacting service.
About Sudsies Dry Cleaners & Laundry
Based on Miami Beach, Sudsies is full-service dry cleaning company dedicated to clean clothes, clean service and a clean environment. An industry pioneer for South Florida home pick-up and delivery services, the Sudsies fleet of bubbly, blue and yellow vans offer prompt service to every nook and corner across the tri-county area, while a team of highly-trained specialists care for garments and customers with a smile. The vast range of services includes ecological dry cleaning and laundry processes, alterations and tailoring, clothing restoration, bridal gown storage or alteration and knowledge of specialty items such as couture garments. At Sudsies, customers look and feel their best, while sister company Rugsies Carpet & Drapery ensures customers live their best. They offer residents of Miami carpet cleaning for their homes and commercial cleaning for offices. For more information about Sudsies, please call 1.888.898.SUDS (7837) or visit http://www.sudsies.com.
###