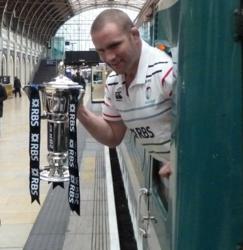 The atmosphere in a rugby charter train is always special; the RBS 6 Nations Express was even more so, with the Trophy onboard.
Swindon, Wiltshire (Vocus/PRWEB) February 14, 2011
Train Chartering provided a Standard Class charter train to Synergy Sponsorship, acting on behalf of The Royal Bank of Scotland, for fans' travel to and from the opening game of the 2011 RBS 6 Nations Championship on Friday 4th February 2011. Passengers had photo opportunities with the RBS 6 Nations Trophy on the way to Cardiff.
The RBS 6 Nations is an annual rugby union Championship between six European countries – England, France, Ireland, Italy, Scotland and Wales. The opening game in 2011 was between Wales and England at the Millennium Stadium, Cardiff.
The RBS 6 Nations Express left London's Paddington Station mid-afternoon, arriving in good time for fans to soak up the atmosphere before the evening kick-off. The late game meant that a private charter train leaving at 23:00hrs was convenient for those who wanted to get back to London on the same day, with a guaranteed seat and a well-stocked buffet car.
The Standard Class train had nearly 450 seats, all arranged in bays of 4 around full-size tables. The design of the carriages (of a type known as Mk2) creates an airy and spacious environment in which passengers can easily move around and socialise. This is an important factor for event travel and means that the journey is a memorable part of the whole experience.
The price set by the client was very competitive with alternative means of travel, being £45 return with a guaranteed seat. Onboard catering included a well-stocked buffet car and a trolley service.
Every charter train operated by Train Chartering is an event that starts before the journey begins - on the station concourse. The RBS 6 Nations Express was no exception. Synergy had arranged TV and radio interviews with Phil Vickery, the ex-England XV player, on the platform at London Paddington, alongside the RBS 6 Nations Trophy.
Subsequently, the Trophy travelled down to the Millennium Stadium on board the RBS 6 Nations Express. During the journey, it was carried through the train, allowing photo opportunities with passengers; a unique experience for fans.
Train Chartering provided trains for the 1999 Rugby World Cup Final in Cardiff and the 2007 Final in Paris, as well as for previous RBS 6 Nations games. Simon Pielow of Train Chartering says: "The atmosphere in a rugby special charter train is always unbeatable; the RBS 6 Nations Express was even more so, with the Trophy being paraded onboard."
Train Chartering has provided charter trains and private carriages since 1998 to corporate and individual clients as well as group travel organisers. Combining this experience with a wide range of train types, Train Chartering is in a unique position to tailor an appropriate rail travel experience.
Further Information
The Train Chartering Company Ltd
Simon Pielow, +44 (0) 1249 890 176, simon(at)trainchartering(dot)com
RBS 6 Nations Press Office
Jenny Mitton +44 (0) 20 3128 6844, pressoffice(at)rbs6nations(dot)com
For Editors:
Notes for editors
1. Email for press briefing notes: info(at)trainchartering(dot)com
2. Photos of the RBS 6 Nations Express, the Trophy, John Inverdale and Phil Vickery are available here.
3. For further information on The RBS 6 Nations, visit http://www.rbs6nations.com
4. Train Chartering supplies private charter trains and carriages. Other related services include:

# # #