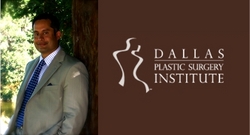 Dallas, TX (Vocus/PRWEB) February 13, 2011
Last year, according to a recent publication of the American Society of Plastic Surgeons, 13.1 million cosmetic procedures were performed in the United States. This represents a five percent increase from 2009. While non-invasive procedures represent 11.6 million of these procedures, the number of invasive surgical procedures was also on the rise at nearly 1.6 million. Board certified Dallas plastic surgeon Dr. Sam Jejurikar, of Dallas Plastic Surgery Institute, reports that these national trends are consistent with trends he's observed in his Dallas and Plano offices.
"I've noticed a huge increase in patient demand for non-invasive procedures such as Botox and facial fillers," says Dr. Jejurikar, "not to mention an increase in surgical procedures which may help patients get ahead in the workplace."
The most common cosmetic surgical procedures performed last year in the United States, in order, were breast augmentation, rhinoplasty (nose reshaping), blepharoplasty (eyelid surgery), liposuction and tummy tuck. Dr. Jejurikar notes that it's common for many of his patients to get two or more of these procedures in combination.
The two most common non-invasive procedures performed in the United States are Botulinum Toxin injections, such as Botox or Dysport, and facial fillers, which are used to fill deeper facial lines. These include agents such as Juvederm, Restylane, Radiesse, Perlane, Artefill and Scultpra. Dr. Jejurikar reports that the increased demand for these procedures seems to be greater than that for invasive procedures.
"Botox, Dysport and facial fillers are relatively quick treatments and less expensive than more invasive procedures. Although the results are transient, the benefits are a more youthful appearance and perhaps an advantage in the workplace."
In summary, the demand for cosmetic surgical procedures and noninvasive cosmetic treatments is increasing nationally and in the Dallas–Ft. Worth metroplex. Dr. Jejurikar performs all of these procedures in his Plano and Dallas offices. Dr. Jejurikar is a member of the American Society of Plastic Surgeons and a member of the prestigious Dallas Plastic Surgery Institute. Not only is he certified by the American Board of Plastic Surgery, but he performed advanced training in aesthetic surgery, ensuring that he can offer his patients cutting edge cosmetic treatments. His office can be contacted via telephone at 214-827-2814 or via the Internet.
# # #