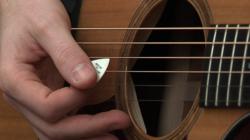 Seventy-eight percent of guitarists say they most prefer learning to play using Songmaster's iVideosongs lessons, nearly 20 percentage points greater than any other method -- including private instructors and free online videos
Jupiter, FL (Vocus/PRWEB) February 15, 2011
Post-holidays, learning how to play that new musical instrument is a common challenge, since 52-percent of households are home to at least one musician. A new survey of veteran guitar players by Songmaster Studios Education LLC suggests home may well be the place to begin learning how to play guitar.
After the holidays, Songmaster pushed a survey to find out what their 14,000 customers were doing to break in their newest musical instruments. Musicians receiving the surveys were tasked to rate nine different products or methods for learning new skills and techniques on the guitar. The company's iVideosongs series rated as most preferred. Coming in second and third place were searching for free videos, tablature and notation on the Internet, followed by personal instruction by a teacher. Preference for Songmaster's instructional method outdistanced the next closest method by nearly twenty percentage points.
As it turns out, responses came from experienced players. Fifty-two percent said they had been playing an instrument for more than a decade, while seven out of ten had reported downloading more than one to master a specific song or technique.
Songmaster is a Florida-based edutainment company that offers educational products like iVideosongs music lessons to help musicians advance their skills. The critically-acclaimed iVideosongs series features lessons by Alex Lifeson of RUSH, Graham Nash, John Oates, Liberty DeVitto, and other noted writers, musicians and recording artists.
# # #