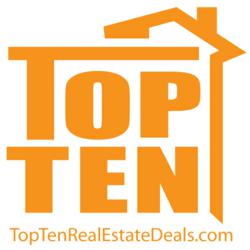 After all, home is where the heart is!
Durham, NC (Vocus/PRWEB) February 14, 2011
TopTenRealEstateDeals.com announces the release of their latest top ten list: The Top Ten Most Romantic Homes for Sale.
The cities were based on the area's romantic atmosphere and opportunities. The most romantic homes were chosen based on a mix of location, history, beauty, features and design which when combined create the perfect atmosphere for inspiring love. Examples of homes include a Lake Tahoe castle, a Charleston home that was an inspiration for a Gone with the Wind character and the Coca Cola Mansion in Atlanta.
"These romantic homes provide Love a street address," states Jason Wakefield, Marketing Director for TopTenRealEstateDeals.com. "After all, home is where the heart is!"
To view the Romantic Homes List visit:
http://www.toptenrealestatedeals.com/homes/featured/2011/the-top-ten-most-romantic-homes/
The list is available to media outlets for publication.
Real estate is never boring at TopTenRealEstateDeals.com. This unique website offers Top 10 lists of today's best real estate values available on the Internet. The site offers a weekly Top 10 list of national deals, regional agent deals broken down by markets, real estate guides, news headlines, condo auctions, and much more.
For further information, list publication, to request an interview with a company representative, or if you are a real estate agent and would like to become a Top Ten 'Concierge' Agent for your market, please contact Jason Wakefield at press (at) toptenrealestatedeals.com.
Contact:
Jason Wakefield
Marketing Director
TopTenRealEstateDeals.com
574-204-2295
press(at)toptenrealestatedeals.com
# # #