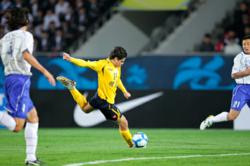 Singapore (Vocus/PRWEB) February 15, 2011
Seongnam Ilhwa Chunma FC (KOR) midfielder, Alejandro Molina Uribe has been named winner of the QNet-ACL Goal of the Season 2010 Award for the AFC Champions League 2010 competition.
QNet Sponsorship Marketing Manager Christophe Altaie said the winning goal was a sensational free kick scored in time-added-on in the 91st minute against Gamba Osaka (JPN) last May 11.
"It was selected out of a shortlist of six goals that were awarded QNet-ACL Goal of the Month throughout the AFC Champions League 2010 season. Molina's goal secured Seongnam Ilhwa FC a position in the Quarter Finals," he said.
Altaie said in the QNet-ACL Goal of the Season contest, supporters stand to win amazing prizes each playing month by voting online for what they believe was the best goal. Contestants also have to write 150 words about their favourite QNet product to qualify as the winner.
He said the contest will run every season until QNet's sponsorship of the league ends in 2012.
The grand prize, a five-day, four-night stay for two at Prana Resorts & Spa in Koh Samui, Thailand (including airfare) and an official AFC Champions League ball, was awarded to the participant who chose the correct best goal.
The Football Asia team committee which selected the Goal of the Season felt it was "a fine reflection of their triumphant march to glory in this year's ACL, where Molina was an undoubted driving force."
Altaie said the grand prize went to Eman Dessouky Mohamed Allam from Egypt, while the 2nd prize winner was Jagjit Kaur Harnek Singh, who won a Bernhard H. Mayer® La Retrograde II watch and an official AFC Champions League ball.
The 3rd prize was won by Bo Qiang Lim who won a Veloci-Ti Concorde pendant and an official AFC Champions League ball.
About QNet
Since 1998, QNet has been one of the foremost pioneers of the direct selling profession throughout Asia, distributing an innovative range of lifestyle products to millions of customers around the world through its cutting-edge e-commerce platform. In its second decade, the company is fast emerging as a global direct selling brand with major operations in Hong Kong, Malaysia and Singapore, and a worldwide presence in almost 30 different countries through representative offices and agency partnerships.
In addition to its strong portfolio of exclusive wellness brands – including nutrition, energy, personal care, home care and other lifestyle product categories – QNet also offers a proven business opportunity to promote the company's products, representing the potential for an entrepreneurial business venture through network marketing.
QNet, the flagship of the QI Group of Companies, is driven by the mission of 'Raise Yourself To Help Mankind' (RYTHM). This philosophy is embodied in many widespread educational, environmental, cultural, and disaster relief philanthropic initiatives, which are enabled by our corporate social responsibility arm, the RYTHM Foundation.
For further information, log on to: http://www.qnet.net/goalofthemonth.
# # #