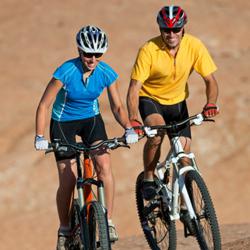 Having the correct eyewear for cycling is as important as choosing the correct helmet
Bolton, Lancashire (Vocus/PRWEB) February 16, 2011
Andy Taylor, is the owner of a retail website selling online prescription glasses, and has been noticing the increase with interest, as more and more of his customer are placing orders with specific sporting activities in mind. 'I created Rockspex originally because as a glasses-wearer myself, it was difficult to find sports prescription glasses, and lately, I have orders from all over the country which reflect just how much as a nation, we're taking care of our physical well being.
Studies have shown that at least 47% of the UK population should wear spectacles from the age of 16, and people should have regular eye test to establish if they're part of this percentage or not. It's brilliant that there are so many people across the country bettering their health by taking up physical sports, but it's no good if they can't see everything and experience them to the full,'
Recent statistics published by Sport England reported a strong increase in the running and cycling, with 6,938,000 people now participating in a sport of some kind at least three times per week.
Participation in athletics, including running, has grown by over 263,000 over the past two years, fuelled by informal running groups, the increase in personal trainers and of course, the celebrity culture. 'Last year, the Flora London Marathon saw celebrities like Natalie Imbruglia, Michelle Heaton, Princess Beatrice and Ricky Whittle take part, and of course there was Eddie Izzard's epic 43 marathon odyssey which was well documented in the media too.
In today's celebrity culture, once a well known face has taken up a diet, haircut, style, pastime or sport, it's only a matter of time before people emulate them,' says Andy. 'David and Victoria Beckham will be photographed with a certain style and suddenly people rushing to buy mens' designer glasses and ladies designer sunglasses to copy their look.'
Over the last two years, the number of cyclists has increased too, by almost 100,000. 'We're committed to getting more people on their bikes and importantly, keeping them cycling,' according to the Chief Executive of British Cycling, Ian Drake. 'What is particularly exciting for us is that we're confident there's plenty more to come and throughout 2011, we will be launching more new initiatives to help get people cycling more regularly.'
'Having the correct eyewear for cycling is as important as choosing the correct helmet,' says Andy. 'Particularly if the customer is cycling long distance or as many of my customers do, go away for a cycling weekend. Polarised prescription sunglasses are recommended for this, but I do encourage my customers to give me as much background information as possible to ensure they have the right specs for the sport- prescription designer glasses are all very nice, but if they slide down your nose whilst you're running or cycling, you've obviously got the wrong kind!'
Even netball, regarded by some as a sport which is relegated to being part of the high school curriculum, has seen participants in local teams across the country increase by 26,000, which translates to a fifth in the last two years. Jennie Price is the Chief Executive of Sport England. 'It's good to see a wide range of sports – from individual pursuits like running to small sports teams like lacrosse – demonstrating that with the right approach, increasing grassroots participation is a realistic ambition.'
'It's interesting to speak to my customers and hear about people of all ages and abilities taking up a sport of any kind- whether it's solo, a team effort, or something a little more adventurous,' says Andy Taylor. 'People are coming to me needing specs for climbing, running, sports prescription sunglasses, prescription cycling sunglasses, and even prescription goggles for white water rafting and kite surfing. There have also been a large amount of customers asking for advice regarding potential eye injuries as the awareness for optical health is also becoming popular. For that reason, I've included a section of my website that deals with explaining the finer points of eye protection, like retinal detachment, UV rays and so on.'
In May 2010, Extreme Sports publication, Adrenamag, launched an Extreme Sports Manifesto urging their readership to encourage the development of extreme sporting facilities up and down the county. The manifesto details how 'adrenalin is the future for tourism' and how extreme sports such as zorbing, paragliding, kite-surfing and bungee jumping are not only useful for boosting tourism, but work in harmony with the surrounding environment, as opposed to against it; football teams need a clear, landscaped, pitch, zorbers simply require a hill.
Andy Taylor is himself a keen extreme sportsman. 'I've been rock climbing for years, done a few sky dives and occasionally punctuate my routine with snowboarding and mountain biking, depending on the weather. When it came to finding glasses to wear myself, whether I was planning a 200 foot descent or a 15 mile cycling trail, there was very little choice out there. Since Rockspex began, and the interest in sporting activities has increased, my company has gone from strength to strength. I've been inundated with orders and requests, and have extended my website in order to provide customers with as much information as possible.
Incorporating sport, whether its cross country running, swimming, cycling, or the more hair-raising sky diving and bungee jumping, is certainly catching on. Even though the weather isn't always brilliant, we live in a beautiful country and it's about time that we all went out there and interacted with it to better our physical selves.'
For prescription sports sunglasses and helpful advice, please visit: http://www.sportsprescriptionglasses.co.uk/
###