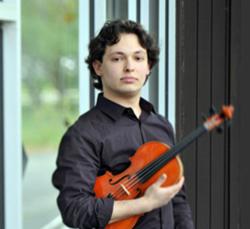 (Kutik has an) old-fashioned rhapsodic style, magnified by ... rich, sweet tone.
New York, NY (Vocus/PRWEB) February 14, 2011
Love of a different sort will be celebrated tonight when renowned Russian violinist Yevgeny Kutik takes center stage at a New York City college campus.
The free Valentine's Day performance, at the College of Staten Island (New York) Center for the Arts, will be dedicated in memory of Dr. Michael Shugrue, a beloved educator, arts aficionado, philanthropist and a patron saint of New York City arts, who died on Dec. 1.
This evening's program will contain works from the following composers: Johannes Brahms, Dmitri Shostakovich, Peter Ilyich Tchaikovsky, Claude Debussy, Kati Agocs, Maurice Ravel and Henryk Wieniawski.
Kutik is hailed for his command of the violin, an outstanding repertoire -- and a musical embrace that harkens back to the legendary Romantic masters.
The New York Times describes his violin as having an "old-fashioned rhapsodic style, magnified by Kutik's rich, sweet tone."
In 2004, Dr. Shugrue, then a 70-year-old retired English professor and former faculty dean at CUNY's College of Staten Island (CSI), launched the Shugrue Cultural Development Fund.
His goal was to present world-class concerts free-of-charge on Staten Island; he had since underwritten nearly a dozen free performances by New York Philharmonic musicians at CSI.
RESERVATIONS ARE A MUST
The concert will take place from 7:30 to 9 p.m. on the CSI campus, 2800 Victory Blvd., building 1P - 117.
To ensure your place at tonight's concert, call 718-982- ARTS (2787).
Media Contact: Barton Horowitz
Relevant Public Relations LLC
Headquarters: 718-682-1509
Mobile: 917-715-8761;
E-mail: Bhorowitz(at)RelevantPR(dot)com
http://www.relevantpr.com
# # #