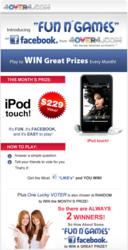 "We are happy to announce our new Facebook contest called "Fun 'N Games", and absolutely everyone is invited. The contest is simply a place for members of our online community to come together and have fun sharing ideas"
Astoria, NY (Vocus/PRWEB) February 15, 2011
Pioneer online printing company 4OVER4.COM has previously been noted for its effective use of Social Networking in the conduct of its activities, and has now taken it a step further with its new "Fun 'N Games" challenge, a monthly Facebook competition open to the general public which features the opportunity to respond to a topic presented by 4OVER4.COM. Facebook users will compete for the monthly prize by submitting responses to the selected topic which will change each month. The contestant whose response receives the most votes through Facebook's "Like" feature will win the monthly prize. As an incentive for voters to participate, one lucky voter will be chosen at random each month as well to win the month's prize. The new competition is expected to encourage positive ideas and synergy through social networking channels.
The 4OVER4.COM competition is unique in the sense that it provides a double opportunity for participants to win a high-value monthly prize while discussing the featured topic, as well as the opportunity to enjoy social communication and networking at the same time. As stated, the competition is open to everyone, and interested participants simply need to navigate to 4OVER4.COM's Facebook page to enter the competition.
Quoting a company spokesperson when asked about the contest:
"We are happy to announce our new Facebook contest called 'Fun 'N Games', and absolutely everyone is invited. The contest is simply a place for members of our online community to come together and have fun sharing ideas. We are committed as a matter of company policy to providing extraordinary value to our clients and the web community and this is another step in that direction. The role of social networking on the web can not be understated as a medium for the exchange of ideas, and as an important and established channel of communication that companies must utilize. 4OVER4.COM is a web based company and as such web based social networking is a fundamental element of our strategy. Our clients are savvy Internet users and we hope they take advantage of 'Fun N' Games' as a way to have some fun and derive real value as well in terms of prizes that we are offering for their participation. We are encouraging all around participation with incentives both to submit a response as well as vote for the responses you like most. There will be a prize awarded to the contestant with the most popular response to our featured question, and one lucky voter will be chosen at random to win the month's prize each month as well. We want people to come to our Facebook page and have fun discussing our featured topic while forming meaningful relationships simultaneously."
It is certainly interesting to note the continued efforts of business printing company 4OVER4.COM with regards to the use of social networking in the conduct of its activities, though this comes as no surprise seeing that the company was one of the very first American online printing companies, and as such, should be expected to play a prominent, if not pioneering role in the use of digital technology and the Internet.
The company is also noteworthy for its green printing activities, and is remarkably at the forefront of several campaigns to save the environment, most recent among which include its campaign to plant trees (see "100,000 Trees for Humanity" project, http://trees.4over4.com) and fundraising programs for environmental charities (see "GREEN15" and "GREENTEAM" campaigns).
The company has also been celebrated for its thorough green policy, which sets it apart from other printing companies. 4OVER4.COM is a holder of the FSC Chain of Custody Certification and abides by strict environment-friendly policies including the use of green materials and processes to minimize the production of Volatile Organic Compounds (VOC's), which are harmful to the environment and human health, according to the Environmental Protection Agency (EPA).
4OVER4 uses vegetable-oil based, water-soluble washes for cleaning presses, which are free from VOC-producing petroleum solvents and can reduce VOC's by up to 90%. The online printing company also practices color management practices and ink-key preset automation which reduces press make-ready times up to 70%, thus reducing paper waste, ink usage and VOC's.
Equally remarkable is the online print company's 100% recycling policy on all wood, metal and paper waste – described by a company spokesperson as "…saving thousands of trees each year, and millions of kilowatts of electricity and gallons of water – a big plus for conservation."
4OVER4.COM is evidently a role model for other printing businesses, and it will be interesting to observe the progress of their new social networking effort, in the form of the 4OVER4.COM Facebook challenge.
Participants in the 4OVER4.COM Facebook challenge stand to enjoy a number of benefits including the opportunity to network with each other and share ideas, serving as a platform for synergy between online communities, and a prime goal of the 4OVER4.COM sponsored competition. Other benefits on offer include a chance to win the featured monthly prize, as well as the opportunity of being invited for future contests and promotions. Participants will also automatically become members of 4OVER4.COM's online community, and will be first in line to receive news and updates about upcoming 4OVER4.COM products and promos.
"'Fun N' Games' is a lighthearted way to build relations with our online printing user base and to reach out to the web based social networking and Facebook community in general. We encourage everyone to participate and for participants to encourage their Facebook friends to vote so that they have a chance to win as well. We also welcome ideas as to what other types of contests might be of interest. We can be contacted via email at support(at)4OVER4(dot)COM," said a company spokesperson.
Interested participants are being directed to 4OVER4.COM's Facebook page where they can participate in "Fun N' Games" by posting a response to the current topic and get a chance to win this month's prize. Each contestant stands to win the prize if their response is the most favored. Prizes are generally going to be high-value items, and this month's prize is a free iPod Touch (a $229 value).
For more information or to participate in "Fun N' Games, visit: http://www.facebook.com/pages/4over4com/285522186318?sk=app_7146470109
About 4OVER4.COM
4OVER4.COM is an online printing services company based in Astoria, New York, and one of the first online printing companies in the United States. The company provides unmatched technical and customer support and instant online pricing and ordering for full color printing services. Since commencement of New York printing services in 1999, 4OVER4.COM has offered free expert file review and free online proofs without any obligation to purchase. 4OVER4.COM is a Green Printing Company and has obtained FSC Certification from the Forest Stewardship Council. As a company, we are strongly oriented towards environmental renewal, and we are happy to lead the way with environmentally and socially responsible green printing practices.
# # #