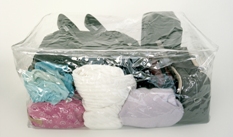 "Vigilance is the key. Many bed bug infestations are the result of travel," said Greenberg. "Whenever venturing away from home or moving into a new one, inspect mattresses, sheets, furniture and walls for black spots, blood stains, and bed bugs."
Northbrook, IL (Vocus/PRWEB) February 23, 2011
2010 marked the Invasion of the Bed Bug and there seems to be no end in sight. These tiny blood sucking pests have been terrorizing homeowners and travelers throughout the country. Pest control professionals are currently receiving 1 to 2 calls per week on average - up from 1 to 2 per year. The EPA and the Center for Disease Control issued a joint statement affirming that the U.S. is now one of many countries experiencing an alarming resurgence in the population of bed bugs. Once Americans have been attacked by these resilient little creatures, they need to know how to retaliate, and defend themselves from another invasion. Now they can win the bed bug battle for good with BugZip®, the world's first bed bug resistant luggage and clothing encasement.
According to a survey conducted by the National Pest Management Association (NPMA) and the University of Kentucky, 95% of professional pest control companies in the US have encountered bed bug infestations. And 76% of pest professionals said that bed bugs are the most difficult pest to control. "Bed bugs love to hide in walls and furniture making them very difficult to detect and treat. After dining out on you for a 5 minute blood meal, they retreat back to their hideout until they are hungry again," said Adam Greenberg, President and Inventor of BugZip®. "Victims now can protect their belongings from bed bugs with BugZip® Luggage and Clothing Encasements."
Once an infestation is found in a home, a pest control professional should be called immediately. Bed bugs are not a "do-it-yourself" pest. A pest control professional will develop a treatment strategy based on the extent and location of the infestation. In preparation for treatment, a pest control professional will want all bedding and clothing that may have come in contact with bed bugs washed and placed in a dryer. Once cleaned, all items should be sealed to prevent a re-infestation. "BugZip® is perfect for storing cleaned/treated clothes and personal items prior to and during treatment of a bed bug infestation," said Greenberg. "People receiving treatment in their homes for an infestation no longer have to live entirely out of garbage bags to isolate their personal belongings." BugZip® is made of heavy-duty clear vinyl that resists tears and can easily hold large objects. The specially designed three-sided bed bug resistant zipper allows easy access to clothing and belongings while "zipping" out bed bugs when they are on the move. It comes in four convenient sizes and is simple to use.
A bed bug infestation can take a long time and a great deal of money to resolve. After an infestation has been eliminated, people who have suffered from the stress and turmoil of an infestation will want to avoid getting bed bugs again. "Once someone has lived through the nightmare of bed bugs, they never want to deal with the pesky parasites again. However, bed bugs will continue to hitchhike on people and their belongings, and people still need to travel," said Greenberg. "The best way to prevent the bloodsuckers from becoming a problem again is to protect your belongings when traveling with BugZip®."
Consumers need to recognize high risk locations such as hotels, apartment buildings, cruise ships, and college dorm rooms and be proactive with prevention. "Vigilance is the key. Many bed bug infestations are the result of travel," said Greenberg. "Whenever venturing away from home or moving into a new one, inspect mattresses, sheets, furniture and walls for black spots, blood stains, and bed bugs."
BugZip® luggage and clothing encasements are the first line of defense in the battle of the bed bug. Bed bugs are often found lurking in hotel rooms looking for their next meal and free ride. Before you bring your luggage and personal belongings into the room, inspect the room for signs of bed bugs. Next, isolate your luggage and personal belongings away from the bed and its surroundings and zip them into a BugZip®. BugZip® allows you to protect your personal belongings where they are most at risk, in your hotel room, preventing bed bugs from coming home with you.
Luggage and clothing encasements are an important part of stopping the vicious bed bug cycle. BugZip® is entomologist tested for advanced resistance to bed bugs. Encasing luggage and personal belongings during treatment and travel provides secure peace of mind. BugZip® is now available for purchase by the pest management industry at Univar USA Professional Products and Services. If you would like to learn more about BugZip® visit http://www.bugzip.com.
About Vantzen Products Inc.
At Vantzen Products Inc. our mission is to be an innovator in bed bug prevention. BugZip® is our revolutionary attempt to stop the bed bugs in their tracks.
Founded in 2006, Vantzen Products Inc. was started on a quest by its President, Adam Greenberg. After learning of the horror of living with bedbugs and finding them under his mattress while taking a cruise with his family, Adam set out to stop the spread of bed bugs into people's homes. Extensive research and development has produced the innovation of BugZip®, the world's first bed bug resistant luggage and clothing encasement. For more information, visit http://www.bugzip.com.
###