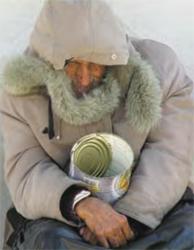 Our goal is to heat up the home and heart of each elderly Israeli today.
Chicago, IL (Vocus/PRWEB) February 15, 2011
Christians in North America are reaching out across the globe with donations of almost $2 million to help thousands of elderly residents in Israel who are enduring bone-chilling weather and near-freezing temperatures this winter – with limited or no ability to pay for heat in their homes.
Rabbi Yechiel Eckstein, founder and president of the International Fellowship of Christians and Jews (IFCJ), announced the kickoff of Operation "Warm Friendship" to help more than 17,000 elderly Jews in need throughout the Holy Land, many of them Holocaust survivors with no one to help them get through the cold winter months.
With generous donations from Christians in the United States and Canada, $1.9 million in winter heating grants will be distributed to these elderly residents this week. In addition, thousands of new blankets have been distributed to families and individuals of all ages since the start of winter.
"IFCJ is committed every winter to helping the elderly population desperately in need of heating in order to survive," Rabbi Eckstein said. "In Israel, there are tens of thousands of elderly people, including many Holocaust survivors and immigrants, who cannot exist on the allowances provided by the state. Their plight is made far worse during the winter months, and many of them are forced to face an impossible choice between heating their homes or buying food or medicine."
On Feb. 16 volunteers will make personal visits to 17,164 seniors ages 75 and older who receive social services and will bring them a heating voucher for 400 shekels (about $110) to help them pay their heating bills. This grant will be delivered by 4,000 volunteers in 22 towns considered by the National Insurance Institute to be the coldest in Israel, including Jerusalem where there are 5,000 elderly in need. The volunteers, who represent dozens of IFCJ partner organizations, will each visit two to five families and spend time talking to the residents in addition to presenting them with the heating voucher and a family-size package of soup.
Early in the winter, generous contributions to IFCJ's Guardians of Israel program also were used to purchase and distribute 25,000 blankets to needy families, children, and the elderly, including some families and children left homeless due to the deadly wildfires that ripped through northern Israel in early December.
"Our contribution is a message to the elderly and all the citizens of Israel that they are not alone and that there are people standing with them, including hundreds of thousands of Christians in America and Canada who care deeply about their welfare," Rabbi Eckstein said. "Our goal is to heat up the home and heart of each elderly Israeli today."
The International Fellowship of Christians and Jews (IFCJ), headquartered in Chicago and Jerusalem, was founded in 1983 by Rabbi Yechiel Eckstein for the purpose of building bridges of cooperation and understanding between both faith communities and together supporting Israel and Jews in need throughout the world. To date, IFCJ has raised two-thirds of a billion dollars to support programs aiding the sick, elderly, orphaned and at-risk populations in Israel, the former Soviet Union, Ethiopia, India, Latin America, and Arab countries. For more information about IFCJ programs and projects, visit http://www.ifcj.org.
###