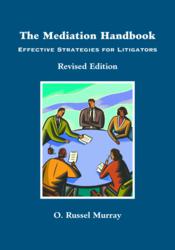 Denver, CO (Vocus/PRWEB) February 22, 2011
Russel Murray is a highly regarded mediator and problem solver with years of experience helping parties and counsel reach optimal and efficient settlements through interest-based bargaining in mediation—that is, helping parties to "settle well."
With this book, you will learn how to reach optimal solutions to even the most complicated, multi-party disputes. It shows you how to prepare yourself and your clients for mediation by evaluating your litigation case and comparing it with your settlement options, drafting a mediation plan, and selecting the right mediator. And, learn how to put your mediation plan to work during the mediation session using the author's step-by-step approach.
This book also explores tactics for dealing with problems along the way, including oppositional-positional opponents, ethical issues, and the use of specially trained dispute resolution or "settlement" counsel. An entire chapter is devoted to getting past impasse, with a description of eight unique strategies for moving the parties forward. Other ADR processes are discussed, with the benefits and shortcomings of each. The book also includes an introduction to game theory, as it applies to mediation. John Nash, of "A Beautiful Mind" fame, won a Nobel Prize for his work in game theory, which provides valuable insights into negotiation and mediation strategy.
This Revised Edition updates information in the first edition and also adds two completely new chapters: Chapter 5, a case study on a successful but sub-optimal settlement of a complex design and build construction case, and Chapter 6, which provides a method for improving results in personal injury and other "money-only" cases through use of classical argumentation to negotiate better outcomes.
About Bradford Publishing Co.
Founded in 1881, Bradford Publishing Company is Colorado's oldest and most trusted publisher of legal information, including legal forms, electronic legal forms, law books, and statutes. Located in Denver's historic LoDo district, Bradford Publishing provides legal forms and reference materials on a variety of legal topics for attorneys, other professionals, and consumers.
Our commitment to quality is the cornerstone of Bradford's business philosophy and we regularly update the content of our books and other publications, so you can rely on the most accurate and current information available.
# # #