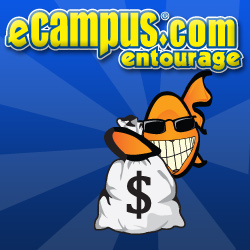 Lexington, KY (Vocus/PRWEB) February 15, 2011
Student Brand Ambassador program, the eCampus.com Entourage, achieved record sales in January 2011; as a result, students across the country will receive healthy commissions for spreading the word to their peers about eCampus.com.
During January 2011, the eCampus.com Entourage program garnered the company almost as much revenue as the program did for the entire year of 2010. The program yielded thousands of orders in January, including textbook rentals, ebook purchases, used/new textbook purchases and merchandise orders, sending out record commission's to members of the eCampus Entourage program.
The Entourage program, which the company rolled out in May of 2010, is a marketing brand ambassador program designed to reward students for spreading the good news about eCampus.com's superior selection, prices and service. Members earn commissions based on orders used with their unique discount code.
Students must apply to be a student brand ambassador for the Entourage program on the company's website, http://www.ecampusentourage.com. Upon acceptance, students are given a unique code. The discount code is valid for 5% off everything at eCampus.com. When the code is used, the Entourage member receives $5 for every textbook rental; $3 for every used textbook purchase; $2 for every ebook purchase; and $1 for every new textbook purchase.
Students have the opportunity to cash in big time with the Entourage program by spreading the word about eCampus.com to all of their peers. The company's Entourage program has proven to be a great way to assist students in paying for college by giving money back to them.
eCampus.com is the go-to website for cheap college textbooks. eCampus.com offers five different buying options for acquiring textbooks on their site. The site offers the purchase of new and used textbooks, textbook rentals, downloadable ebooks, and a marketplace function where customers can purchase used textbooks directly from other students. The site also offers a large inventory of DVDs and Blu-rays, as well as licensed college clothing and gifts.
ABOUT eCAMPUS.COM
eCampus.com was established on July 2, 1999. Since then, eCampus.com has grown into a major online retailer providing cheap textbooks for college and high school textbooks. eCampus.com's mission is to provide the easiest, fastest, cheapest way for college and university students to buy textbooks, rent textbooks and sell textbooks. eCampus.com believes the Internet buying experience should be fun and shopping for textbooks should be as fast and convenient as possible. The company makes a personal commitment to every customer that eCampus.com will be the best source for everything they need.
# # #