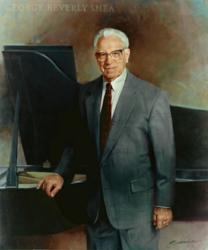 Houghton College is certainly proud of the lifelong impact that George Beverly Shea has made in sharing the Gospel around the globe.
Houghton, N.Y. (Vocus/PRWEB) February 15, 2011
Houghton College alumnus George Beverly Shea '32, known as 'America's beloved Gospel singer,' received the Lifetime Achievement Award from the Recording Academy on February 12, 2011 at the 53rd annual Grammy Awards in Los Angeles. Shea, the oldest living recipient of the award at 102, received the honor alongside singer and actress Julie Andrews, bandleader Roy Haynes, the Juilliard String Quartet, the Kingston Trio folk group, country superstar Dolly Parton, and punk rockers The Ramones in a ceremony held on Saturday.
Shea was born in 1909 in Winchester, Ontario, and at the age of eight, he moved to Houghton, N.Y. with his family. While his father traveled the area serving as an itinerant minister, George Beverly attended elementary school in the one-room schoolhouse on the Houghton hill, and grew up in a house on the current college campus that overlooks the valley. In 1921, the family – that would include eight children – returned to Ottawa.
Shea came back to Houghton in 1928 to start his college career. He sang in the quartet, the choir, and Men's Glee Club. He stayed at Houghton for a year, and then as the Depression struck, he relocated to Jersey City, N.J. with his family to take a job with Mutual of New York Insurance Company. He sang in his spare time, and was eventually heard across the nation via radio broadcasts.
It was in 1943 during one of those radio shows – Songs in the Night – that George Beverly was introduced to the young pastor of the Village Church in Western Springs, Ill. In a recent interview by the Billy Graham Evangelical Association, Shea reminisced about that: "One morning on the other side of my glass door stood a tall blond young man named Billy Graham. He came to tell me about his interest in my program. That is how we met, and we became acquainted from there. He was 21 and I was 31…It has been a blessing to be friends with him."
That meeting was the beginning of a ministry and friendship that lasts to this day. It has taken the men to every state and every continent sharing the Gospel – one through word, the other through song. "Of all the gospel singers in the world today, the one I would rather hear more than any other is George Beverly Shea," commented Billy Graham in the book, How Great Thou Art. "Because he has been singing hymns all his life, these songs of worship have become an integral part of who George Beverly Shea is."
Shea traveled the world with the Billy Graham Evangelical Association Team – that included music director Cliff Barrows, team organist and pianist Bill Fasig, organists Don Hustad and John Innes, and pianist Tedd Smith. The Guinness Book of World Records credits Shea with singing in front of the most people ever – a combined audience of 220 million. He spent 26 years recording for RCA records and has recorded more than 500 vocal solos, more than 70 albums, and has performed on radio, television and film. Shea has earned 10 Grammy nominations, winning one in 1965 for the best gospel or other religious recording. He was elected to the Gospel Music Association Hall of Fame and the National Religious Broadcasters Hall of Fame. Shea has met almost every United States president of the past 60 years, and has shaken hands with baseball legend Lou Gehrig, newspaper publisher Frank Gannett, radio star Fred Allen, comedian and radio/television star Jack Benny, and country music legend Johnny Cash.
At age 102 George Beverly still sings at the Cove – the Billy Graham Training Center – about eight times a year. When asked what advice Shea could give other singers, he noted, "I never put my hand on a knob to open a door. The Lord opened doors for me. I never even planned on being a gospel singer!"
Houghton College is certainly proud of the lifelong impact that George Beverly Shea has made in sharing the Gospel around the globe. "George Beverly Shea has taken the gift that God gave him, developed that gift, and used it to bring the message of God's grace and love to a hurting world," commented Shirley A. Mullen, president of Houghton College. "That is the essence of what it means to be an alumnus of Houghton College."
Shea's Houghton connections go deeper than his childhood years and his time as a college student. Three generations of the Shea family have attended Houghton College. Older brother J. Whitney Shea '33 and wife Phoebe '26 served at the college – Whitney as a professor and Phoebe as the comptroller. Younger brother Alton Shea '36 served as a Methodist minister and missionary, and his wife, Aileen Ortlip Shea, was an influential art professor at Houghton. Sister Ruth Willett '41 was the wife of Edward Willett '39, a former Houghton professor and son of Houghton's first graduate. Sister Lois Wright '38 and her husband, Dr. Kenneth Wright '34, were influential in establishing the assisted living facility in Houghton. Shea's nephew, Paul '69 is a current Houghton professor, and his niece Eila '66 is a former art teacher at the Houghton Academy.
George Beverly's 97-year-old brother, Alton, a Houghton resident for the last 33 years, shares the enthusiasm of the Shea family. "We're glad for our family's long connection to Houghton that dates back to 1917. I speak to Bev frequently on the phone and even Skype once in a while. Congratulations to him on the Grammy honor. The two of us sang a concert duet at Houghton some years ago. We both sang in the college choir and quartets in our college days. We owe a lot to Houghton."
George Beverly Shea, father of Ronald and Elaine, lives in Montreat, N.C. with his wife, Karlene. He was awarded an honorary doctorate in fine arts from Houghton College in 1956.
Houghton College is a liberal arts institution that challenges students to academic excellence - in the context of a relevant Christian community - and empowers them to enrich the world. The college of 1,200 students is located in Western New York, just 65 miles from Rochester and Buffalo. For more information, please visit http://www.houghton.edu.
# # #