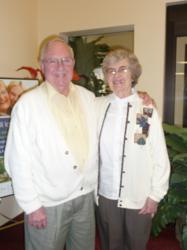 We've never won anything like this ... I didn't believe it when they called, and I didn't sleep at all that night.
Salem, OR (Vocus/PRWEB) February 15, 2011
Bob and Ordelle Bammert will never have to write another rent check.
The Olympia, Wash. couple was selected last week to win free rent for life in a random drawing during Holiday Retirement's Free Rent for Life sweepstakes. Every senior who toured one of the more than 300 Holiday Retirement communities across North America in January was automatically entered into the sweepstakes, which continue through March 31 with one winner announced each month.
The Bammerts, who will celebrate their 50th wedding anniversary later this year, entered the sweepstakes after Bob toured Capital Place, located at 700 Black Lake Blvd. in Olympia, Wash, in late January. The couple was notified of their winnings on Wednesday, Feb. 9.
"We've never won anything like this," said Bob, 85, a navy veteran who worked for the Washington State Department of Natural Resources for 32 years. Ordelle, 84, worked 27 years as a teacher. "I didn't believe it when they called, and I didn't sleep at all that night."
Ordelle said, "It is hard to believe."
The monthly rent at Capital Place, and all Holiday communities, covers three chef-prepared meals daily, live-in managers, transportation and housekeeping services, daily activities, and an exclusive travel program that allows residents to stay free of charge at all other Holiday Retirement communities.
"There are just so many nice amenities," Bob said of Capital Place. "The people are very friendly, the layout is beautiful, the grounds are nice, and it's in a convenient location."
He added: "Winning this takes the pressure off selling our home and property and gives us time."
To learn more about the Bammerts and the Free Rent for Life sweepstakes, please call Holiday Retirement at 503-586-7289.
For more than 40 years, Holiday Retirement has been a pioneer and a leader in the Independent Retirement Living industry. Operating more than 300 communities throughout the United States and Canada, Holiday Retirement provides seniors with a rewarding and enriching lifestyle through affordable living arrangements, plentiful amenities, and a supportive, welcoming community to call home. For more information, call 503-586-7289 or visit http://www.holidaytouch.com.
# # #