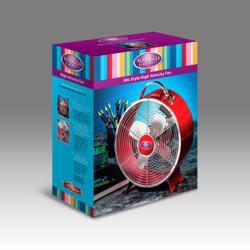 "With over 21 new product introductions, we expect 2011 to be an even bigger year than 2010."
Camarillo, California (Vocus/PRWEB) February 15, 2011
Nostalgia Electrics™ is debuting a brand-new, uniform packaging concept that perfectly captures the fun and engaging persona of the brand. Attendees of the 2011 International Home and Housewares Show in Chicago, IL (Sunday, March 6 - Tuesday, March 8) will be able to get a sneak preview of the expanded Nostalgia Electrics line of small kitchen and specialty appliances and packaging at booth number L13137, Lakeside.
Nostalgia Electrics™ has always been known for its family fun and home entertaining specialty appliances. Best-selling items include popcorn makers, snow cone makers and cotton candy machines. This year, the company is expanding its popular Retro Series™ product line to include microwave ovens, fans and new Hard & Sugar Free Cotton Candy Makers.
"2010 was a record year for Nostalgia Products Group. Our product quality has improved greatly and our new product line retailed better over the holiday than our projections," says NPG President, Gregg Bond. "With over 21 new product introductions, we expect 2011 to be an even bigger year than 2010."
Some of the new kitchen and specialty appliances Nostalgia Electrics™ is debuting at the 2011 International Home and Housewares Show include:

Retro Series™ Microwaves (RMO400) – This '50s retro-styled, 1,000-watt microwave is 0.9 cubic ft. and has pre-programmed cooking times. The unit comes in a variety of fun colors including: classic retro red, green, blue, white and black.
Retro Series High Velocity Fan (RDF800) - High velocity coolness in a classy, compact package. This tabletop fan has variable settings, a handle for easy portability and feet for stability. Perfect for desktops and work spaces. Comes in a variety of colors.
Retro Series™ Breakfast Toaster (BTG100) – A fun and convenient way to make a variety of quick and delicious meals. Two large toasting slots fit bagels and bread, while nonstick, flip-down griddle cooks pancakes, eggs, sausage and more.
These products and more will be available for viewing at the 2011 International Home and Housewares Show. Bond says that buyers are already scrambling to make appointments to see Nostalgia Electrics'™ "secret room" at their show booth for first bids on the next hot product to drive holiday retail sales.
About Nostalgia Products Group, LLC:
Nostalgia Products Group, LLC, designs, manufactures and markets the Nostalgia Electrics™ brand of small kitchen and specialty appliances. Nostalgia Products Group, LLC also develops a wide range of innovative products to excite consumers and retailers alike, such as the Hard and Sugar Free Cotton Candy Maker. Their products are sold through all major channels of distribution from both within the United States and worldwide. Retail and e-retail sales include all major department store chains, home shopping networks, catalogs, and e-commerce companies. Internationally, NPG products carry the GS and SSA electrical approvals. They ship to over 30 countries worldwide. Services include product development, sales, marketing, warehousing and distribution. Please visit Nostalgia Products Group, LLC online at: http://www.nostalgiaelectrics.com.
For more information, please contact:
Sales and Marketing
Nostalgia Products Group, LLC
Phone: 920.337.9800 / Fax: 920.337.9984 / E-mail: gbond(at)nostalgiaelectrics(dot)com
For media inquiries, please contact:
Jessica Jones
Nostalgia Products Group, LLC
Phone: 805.322.7455 / E-mail: jjones(at)nostalgiaelectrics(dot)com
###