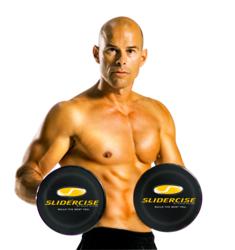 "I was tired of spending $110 a month in gym memberships and gas..."
Los Gatos, California (Vocus/PRWEB) February 23, 2011
It's 2011 and with the New Year comes a tighter budget and even tighter jeans. What's the solution? Work out from the comforts of home. At home workout systems are making it easy and affordable. "I was tired of spending $110 a month in gym memberships and gas and losing 10 hours of free time every week for an average workout," says David Miller, creator of the Slidercise Training System.
At home workouts last anywhere from 10 to 60 minutes depending on the individual's goals. The amount of time saved over driving to the gym and waiting for equipment could total over 200 hours a year. That is equivalent to a part time job, taking on additional education or more family time.
The average cost of an at home training system ranges from $40 to $200. Compare that to annual gym memberships starting around $360 and an estimated $720 in fuel costs, driving to and from the gym. By making it more affordable, an opportunity arises for more individuals to attain a healthier lifestyle.
These at home workout systems are more than just a training apparatus, they provide the information needed to achieve one's goals. "You can't just hand an individual a piece of exercise equipment and send them on their way. You have a responsibility to guide them with a variety of media like workout DVD's, instructional charts and an interactive web site. Your site should not only instruct, but motivate and inspire each person," says Miller. Technology has made getting fit extremely easy. The internet is full of free information on what to eat and how to workout. It is like free access to their own personal trainer 24/7.
For many, a great daily workout is essential to one's peace of mind. While many don't want to give up their workouts, growing families and obligations limit time available to fit in personal fitness. That is when an at home workout system provides a great opportunity. And finding one that is travel-friendly, even better. Today's American is on the go, whether at work or play, and having a system that fits in a suitcase, briefcase or purse may be just the solution that today's fitness seekers are looking for.
The fitness world has eliminated the excuses and made getting in shape more cost effective and time efficient than ever before. There is no better time than now to get started.
About Build The Best You:
David Miller developed the company around his revolutionary fitness product - Slidercise. Along with his interactive web site, The Naked Truth Diet.com, he offers all the tools needed for an individual to achieve their fitness and nutritional goals - a calorie counter, fitness journal, and enough motivational articles to inspire a change in everyone.
# # #