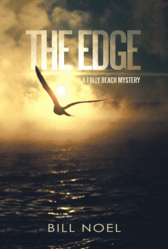 Louisville, KY (Vocus/PRWEB) February 16, 2011
As the digital era ushers in a revamping of the book publishing industry, past revolutions in this still niche industry loom all the more intriguing. The introduction of the paperback some 65 years ago led to a whole new way of enjoying leisure reading, bringing about its most treasured of genres—the beach read.
Harold Robbins. Tom Clancy. Jackie Collins. The scribes of sandy literature are as varied as the books they offer. But the ingredients remain the same: compelling plotline, zany cast of characters and an interesting conundrum. Bringing all these ingredients to an enthralling boil is mystery writer Bill Noel in his page-turner, The Edge: A Folly Beach Mystery (published by iUniverse).
Chris Landrum had survived his first hurricane on Folly Beach, South Carolina, and breathes a sigh of relief. The sigh proves to be premature. Chris's peaceful retirement on the tiny barrier island goes from bad to worse when the body of an acquaintance is discovered. Deaths from a hurricane are not unusual, but when an arrow through the heart is the cause, everything changes.
Yet, the killer made one critical mistake, and now Chris's friends could be the next victims. With the help of his left-of-quirky acquaintances, Chris, has to stop him. The Edge, a boardinghouse full of misfits, and a country music bar were all that connected the victims. Was Country Cal, a washed-up musician, the killer or the next victim? How about Harley, whose name matches his motorcycle—low, wide and loud? Or Heather, the songstress whose looks far exceed her musical talents?
Finding the killer is complicated by the police who declared that Chris and his friends are nearly as evil as the murderer. A friend's heart attack, questions about his own love life, his failing business and a police chief bent on running Chris off the island, provide no shortage of roadblocks to finding the killer—potentially fatal roadblocks.
Written with the casual confidence of a seasoned writer, The Edge pairs laugh-out-loud humor with memorable characters and wraps it all in a nail-biting murder mystery. Add a comfy reclining lounger and you have all the makings of a perfect beach outing.
About the Author
Bill Noel works as a university administrator and fine art photographer. He is also the author of Folly, The Pier and Washout, which are part of the Folly Beach Mystery series. The fifth book in the series, The Marsh, was released January 2011. He lives in Louisville, Ky., with his wife, Susan.
iUniverse is the leading book marketing, editorial services and supported self-publishing company. For more information, visit http://www.iuniverse.com.
EDITORS: For review copies or interview requests, contact:
Marketing Services
Tel: 800-288-4677
Fax: 812-961-3133
Email: promotions(at)iuniverse(dot)com
(When requesting a review copy, please provide a street address.)
# # #