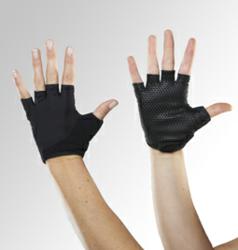 Carlsbad, CA (Vocus/PRWEB) February 17, 2011
The New Year often marks the beginning of new habits and resolutions, as well as the calendar. These goals usually encompass a healthier mindset thus establishing this time of year as "fitness season". Southern-California based company, ToeSox, understands this trend as their products for feet suit the soles of many fitness disciplines from running and hiking to Pilates and yoga.
ToeSox recently released gloves that complement their line of non-slip grip toe socks. Grip Gloves by ToeSox prevent hands from slipping during many fitness activities, especially yoga. Sliding hands are common on the yoga mat during dynamic poses like Adho Mukha Svanasana (downward facing dog) and during hot yoga classes. Even more distinctive of the gloves, is their ability to provide secure hand placement on any surface. When Grip Gloves are paired with ToeSox with Grip, yogis can leave their mat behind when travelling, and take their practice virtually anywhere.
While travel may have suffered over the past couple years, experts claim a change in behavior is coming. A 2010 article by hotelmarketing.com predicted that "36 percent [of Americans] plan to spend more on leisure travel in 2011 than this year… Ninety percent plan to take two or more leisure trips [in 2011] - a slight increase on the 89 percent who said they have done so in 2010." Couple these travel trends with an increased interest in yoga, and it makes sense for ToeSox to focus their yoga products toward yogis on the go. In 2008, 16 million Americans practiced yoga and the interest is continuing to grow as people are valuing the importance of stress management.
So whether travelers want shopping and skyscrapers or meditative walks on serene beaches, vacations can still be yoga-inspired by practicing poses without slipping anywhere with ToeSox and Grip Gloves.
ToeSox, Inc. was founded in 2004 with the launch of its patented Non-Slip Grip sole, and has since grown from a home-based business to selling various styles nationwide and to more than 40 countries. Visit ToeSox™ at http://www.toesox.com or call (877)486-3769.
###