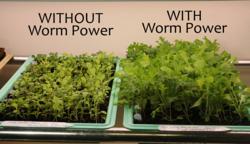 "If you want to improve your soil's long-term and physical, chemical and biological properties, without using anything synthetic, there's simply nothing like Worm Power."
Rochester, NY (Vocus/PRWEB) February 15, 2011
For the first time home gardeners will have easy retail access to the organic earthworm-made fertilizer that commercial growers have already discovered. Harris Seeds, a seasoned provider of high quality garden seeds, supplies and organic gardening solutions, is partnering with Worm Power to offer its proven-effective organic fertilizer to gardeners nationwide.
Worm Power's fertilizer, which shares the company name, is produced by millions of earthworms, raised under ideal conditions in a state-of-the-art facility. The rich and crumbly, odorless fertilizer is now available nationwide in convenient shaker cans and in three bag sizes. Brew-it-yourself Worm Power Shower is also available, allowing gardeners to feed plants with liquid Worm Power.
The agreement makes Harris Seeds the primary distributor of Worm Power in the United States. "Promoting Worm Power to gardeners and garden centers was a natural step, given Harris Seeds' expanding line of seeds and supplies for organic gardeners," said Solveig Hanson, organic product manager at Harris Seeds. "There's a symbiosis between Harris Seeds and Worm Power. Our partnership means that Worm Power can focus on taking care of its 60 million earthworms and producing top quality organic fertilizer, while we can do what we do best: connect with our extensive network of gardeners and provide excellent customer service."
Founded in 2003 and located in the heart of Dairy Country in the Finger Lakes region of New York State, Worm Power has built and operates the largest earthworm composting facility in the Western hemisphere. Worm Power is an all-natural organic fertilizer, loaded with beneficial microorganisms and rich in both primary nutrients (NPK) and micronutrients. It's an effective fertilizer for anything that grows, including flowers, vegetables, fruit trees, shrubs, outdoor garden beds and delicate indoor plants. Unlike synthetic fertilizers, Worm Power provides abundant natural microbial populations and feeds the soil available nutrients, which in turn increases overall plant performance. "It's nature's original fertilizer, straight from the worms," said Tom Herlihy, president of Worm Power. "If you want to improve your soil's long-term and physical, chemical and biological properties, without using anything synthetic, there's simply nothing like Worm Power."
Tested and Effective
Certified by the Organic Materials Review Institute (OMRI) for organic production, Worm Power is odorless and safe for use around kids and pets. Its fine, crumbly texture - like that of ground coffee - makes Worm Power easy to spread and handle. It delivers a guaranteed NPK analysis of 1.5-0.7-1.5, plus abundant micronutrients and a robust community of beneficial microorganisms essential for plant production. Worm Power provides consistent, effective, repeatable results, time after time.
Peer-reviewed scientific literature has proven that earthworm compost materials enhance plant germination, plant growth and crop yields in both field soils and greenhouse crops. Such increased crop productivity is attributed to the action of vermicompost's rich microbial community, which makes soil nutrients more soluble and bio-available to plants. In addition, university studies have shown that Worm Power vermicompost suppresses the fungal pathogen Pythium (known as "damping off") in laboratory settings. Worm Power products have been used extensively in multiple independent university studies for more than five years, and the company remains involved at the forefront of vermicompost research. Research reports are available in the Harris Worm Power newsroom.
Rick Hill, owner of Fresh Berries, Inc., in North Carolina and past president of the National Blueberry Growers Association, has used Worm Power in both potting soil and in amending the soil for field-grown blueberries. He reports "phenomenal results with much healthier soil." "Worm Power is by far the best product I have found in today's market," Hill said.
Richard Figiel, owner of Silver Thread Vineyard in Lodi, New York, is also happy with the results. "Our strategy here is to encourage as much life in the soil as we can," Figiel said. "Rather than apply fertilizers that will directly feed the plant," he said, "Silver Thread strives to enrich the biology in the soil, and let the soil feed the plant. Worm Power fits right into that. The more we can strengthen the bond between soil and the plant, the more we can produce wine that truly reflects our unique location. And that's a lot of what wine quality is about."
Benefits

Improved germination, plant vigor and root growth
Enhanced soil structure, water-holding capacity and porosity
Consistent, slow-release supply of organic nutrients
Beneficial supply of microorganisms for long-term soil health
Organic and OMRI approved
Odorless
Easy to use and safe around kids, pets and sensitive plants
Uses

Conventional & organic vegetables
Add to seed starting mix
Flowers
Add to potting mix
Fruit trees & grape vines
Fertilize vegetable, flower or woody transplants
House plants
Top dress beds, rows, containers or house plants
Container gardens & garden beds
Drench soil or foliar feed with liquid Worm Power Shower
Availability
Gardeners can order Worm Power directly from Harris Seeds or find it in a growing number of independent garden centers. Bulk cubic yards of Worm Power continue to be available for professional growers.
Worm Power is sold for home garden use in 1 lb., 3 lb. and 15 lb bags, in convenient shakers for house plants, and in Worm Power Shower home-brew kits; retail prices range from $3.50 to $40.95. Worm Power can be purchased at http://www.harrisseeds.com or by calling Harris Seeds at 800-544-7938. Home gardeners will receive a free shaker of Worm Power when they purchase more than $55 worth of seeds and supplies from Harris Seeds through March 31, 2011. Garden center owners and professional growers should call Harris Seeds at 800-544-7938 to purchase cases of Worm Power for resale or bulk cubic yards for their own production.
About Harris Seeds
Harris Seeds provides vegetable seeds, flower seeds, plants and growing supplies to gardeners and professional growers throughout the U.S. Since its founding in 1879, Harris Seeds has provided the finest products available, at fair prices, with friendly and courteous service. Request a Harris Seeds catalog by calling 800-544-7938 or visiting http://www.harrisseeds.com.
Editors Note: Videos, photos and reference materials are available online at Harris Seeds newsroom: http://www.harrisseeds.com/wormpower.html
For Product/Sales Inquiries contact:
Harris Seeds
800 544-7938
gardeners(at)harrisseeds(dot)com
For media inquiries contact:
Laurie Riedman
Riedman Communications
585 396-3100 / laurie(at)riedmancomm(dot)com
###