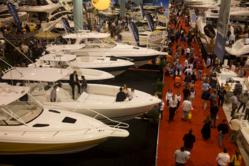 Miami (Vocus/PRWEB) February 15, 2011
Get an exclusive look at thousands of the newest boats, cutting edge technologies and must-have accessories as exhibitors from around the world come together to showcase their latest and greatest at the 2011 Miami International Boat Show and Strictly Sail. The world's premier boat show anchors this Thursday, February 17 until Monday, February 21 at three locations: the Miami Beach Convention Center, Sea Isle Marina & Yachting Center, and Miamarina at Bayside (home to Strictly Sail Miami).
This year, the boat show is pulling out all the stops to ensure experienced boaters and novices alike have the chance to get the hands-on education needed to make the most of their time on the water, with attractions including the new Discover Boating Resource Center's free daily on-the-water clinics and the Dive and Travel Harbor, among a vast array of other features and celeb appearances.
The 2011 show is also home to hundreds of boat and accessory debuts, offering boaters the exclusive chance to see the best that the industry has to offer, including the 'Queen of the Show'; the first semi-submarine for consumers; the world's only hands-free diver propulsion vehicle; and much more.
2011 Miami International Boat Show & Strictly Sail highlights:

Learn to Scuba Dive! The DEMA 'Be Diver Pool' – Part of the New Dive & Travel Harbor, guests 10 and older can submerge themselves into the fun and excitement of scuba diving in a heated pool (media can tape in pool). Each guest will receive a photo of their dive as a keepsake to take home.
Launch your boating life at the Discover Boating Resource Center – This interactive educational series takes a hands-on approach to training that will include free, daily boating seminars covering a range of topics followed by on-the water clinics to apply skills learned in the classroom. Courses include boating fundamentals, beginners' and advanced sailing, close quarter handling and navigation.(Sea Isle Marina and Miamarina at Bayside)
Dive & Travel Harbor – A true 'show within a show' for diving and travel enthusiasts, this new area includes dozens of booths showcasing everything from scuba products and gear to travel, resorts and boating destinations, plus a chance to learn how to scuba dive and see daily underwater demos of the latest dive equipment at the 'Human Aquarium'.
Celeb appearances –
o Russell Newberry, Star Deckboss from the hit TV show Deadliest Catch – Catch a photo op, an autograph and the inside scoop on life aboard three of the most popular crab boats in America as you meet and greet this "Dangerous Deckhand" from Discovery Channel's hit series. Meet Russell Thursday and Friday (2/17-2/18) from 11:00a.m.-2:00p.m. and 3:00p.m.-6:00p.m.; and Saturday through Monday (2/19-2/21) from 11:00a.m.-2:00p.m. and 3:00p.m.-5:00p.m.
o Guy Harvey – Boating enthusiasts and art aficionados can meet marine legend Dr. Guy Harvey in the new Guy Harvey Artist Pavilion and shop the largest collection of Guy Harvey artwork, apparel and merchandise from more than 20 licensed Guy Harvey suppliers. Guy Harvey will be available during the show to meet and greet fans looking for his distinct signature on: Thursday (2/17) from noon–5:00p.m.; Friday and Saturday (2/18–2/19) from 10:00a.m.–5:00p.m.; and Sunday (2/20) from 10:00a.m.–4:00p.m.
o Zac Sunderland, youngest male to circumnavigate the glob – Zac Sunderland, the youngest person to ever sail around the world, will be making daily appearances at the 2011 show to meet and greet fans and talk about his solo journey circumnavigating the globe, plus future excursions. (Strictly Sail Miami)
o National Geographic's Shark Men's Chris Fischer – Meet legendary ocean explorer, angler, conservationist, and host of National Geographic Channel's ground-breaking series, Shark Men – Chris Fischer. Chris will share his experiences during his recent shark research expeditions and will answer audience questions on Friday ONLY from 6:00-7:00p.m.. (Big Game Room)
New boats and marine accessories not to miss:
Meet the 'Queen' of the Show, the World Debut of the Marlow Explorer 97E – The long-awaited unveiling of the largest Marlow Explorer to date will take place at the 2011 show. The Marlow Explorer 97E hull #1 features a grand salon and a separate formal dining room for entertaining; on-deck master suite with private balcony; six guest cabins plus aft crew quarters; solar roof system; two "Country Kitchens" for outdoor activities with day heads on the upper and lower deck. Her hydraulic transom door and swim platform allow water toys and easy access to the crew quarters, which is equipped with a compact and fully functional crew galley. (Sea Isle Marina, Slips 167-170)
Compact Semi Submarine – EGO – A new way to enjoy the ocean! The new EGO makes it easy for anyone to explore undersea. The world's first semi-submarine boat for consumers can go under the water just like a submarine so people can conveniently observe fish and coral reefs in their natural environment. And unlike submarines, EGO provides the opportunity to experience boating's other benefits including fishing and sunbathing with ample deck space. (Booth 4265)
Hacker-Craft 30' Sport – A modern twist to an American classic - The 30' mahogany Sport is the ideal family boat: sturdy in construction, wider in flair and with a bit more freeboard for dryness and seagoing quality. This handsome, meticulously built boat rides with ease and comfort. The modern design transom steps and swim platform make for easy boarding in and out of the boat for swimming, waterskiing or tubing. (Booth 3380)
TUI Marine's Leopard 44 Catamaran – The Leopard 44 is the newest generation of cruising catamarans focused on innovation, performance, and comfort. With an abundance of outdoor space, this catamaran is both luxurious and practical, with a luxurious owners' suite, cabin, lounge area, desk area, spacious head and plenty of storage. The innovative exterior of the Leopard features not only a spacious hardtop covered aft cockpit but also a large forward cockpit with access to the saloon providing an exciting new innovation for catamarans. Options for the Leopard 44 include solar panels. http://www.leopardcatamarans.com. (Slip 161 at Sea Isle Marina & Yachting Center)
Pegasus, world's ONLY hands-free diver propulsion vehicle – This patented, tank-mounted diver propulsion system provides effortless hands-free operation, providing significant power with relatively no maintenance. The major difference between the Pegasus and competing products is the way the thruster is strapped to the diver's air tank, leaving the user's hands free for tasks like filming, photography, spear guns and other equipment. With speeds up to 170 ft per minute, the Pegasus Thrusters expands diving boundaries and significantly reduces fatigue. Pegasus will have people flying around in the pool for demos daily. (Booth 1934, Dive & Travel Harbor)
SPOT Connect – Keep in touch with friends, family and emergency personnel even from remote locations. When SPOT Connect syncs with your smartphone, you're instantly connected to a global satellite network that lets you send messages and GPS coordinates from virtually anywhere on the planet, even when you are nowhere near a cell phone signal. See demos at the West Marine booth. (Booth 1681)
Seldén Winch, a reversible winch! ̶ This award-winning revolutionary winch design takes an even stronger grip on the sailing hardware market by introducing a new range of manually operated winches ̶ that are reversible! This winch was recently awarded the most prestigious award in its category, The DAME (Design Award METS), which is the top award for new marine equipment and accessories in the world. The judges felt that this winch is the future for sailboats.
Lowrance Elite-5 DSI Gold Fishfinder/Chartplotter Combo – Combining Lowrance's innovative DownScan Imaging™ technology with an incredibly accurate and detailed Navionics Gold chartcard. Leaving nothing to the imagination, the Elite-5 DSI clearly distinguishes between predator fish and baitfish schools, hard and soft bottoms, as well as fish and structure on or near the bottom.
More information on the show, a complete schedule of daily seminars and a complete list of highlights can be found at MiamiBoatShow.com or StrictlySailMiami.com.
Editor's Note: photos ops, interviews and more information are available upon request. Contact Anne Thomas at (919) 368-6452 or thomas(at)creativecomminc(dot)com to coordinate onsite media opportunities.
Show details:
When: Thursday, February 17, through Monday, February 21, 2011
Thursday, Feb. 17 (Premier Thursday): 10 a.m.-6 p.m.
Friday, Feb. 18-Sunday, Feb.20: 10 a.m.-8 p.m.
Monday, Feb.21: 10 a.m.-6 p.m.
Sea Isle Marina & Yachting Center and Miamarina at Bayside open 10 a.m.-6 p.m. daily
Where: Miami Beach Convention Center
1901 Convention Center Drive, Miami Beach
Sea Isle Marina & Yachting Center – Miami International Boat Show's in-water display
1635 North Bayshore Drive, Miami
Miamarina at Bayside – Strictly Sail Miami returns to Bayside for 2011!
400 Biscayne Blvd., Miami
Admission: Premier Day (Feb. 11): $30
Adults: $16
Five-day adult pass: $75
Two-day adult pass (valid Feb. 18-21): $30
Youth 15 and under get in FREE
Advance tickets can be purchased at MiamiBoatShow.com or StrictlySail.com beginning
December 17, 2010.
Parking: Courtesy shuttle buses will run between all locations including the park and ride at the
American Airlines Arena from one hour prior to show opening through one hour after show close daily. Daily parking at the American Airlines Arena is $10.
New for 2011! Courtesy water taxi service is available between the park and ride at the
American Airlines Arena, Sea Isle Marina & Yachting Center, and Strictly Sail Miami at
Miamarina at Bayside from 10 a.m.-6 p.m. daily.
Web: Visitors can now pre-shop the show online at MiamiBoatShow.com or StrictlySailMiami.com; get up-to-the-minute news at http://www.twitter.com/MiamiBoatShow; find us on Facebook.
About the Miami Int'l Boat Show and Strictly Sail Miami
The 70th annual Miami International Boat Show and Strictly Sail Miami is produced by the National Marine Manufacturers Association (NMMA), the world's largest producer of boat shows and the leading association representing the recreational boating industry. NMMA member companies produce more than 80 percent of the boats, engines, trailers, accessories and gear used by boaters and anglers throughout the U.S. and Canada. The association is dedicated to industry growth through programs in public policy advocacy, market statistics and research, product quality assurance and promotion of the boating lifestyle. For more information, visit http://www.nmma.org.
Media Contacts:
Claudia D'Avanzo or Anne Thomas
(404) 898-0423 office
(404) 374-5893 mobile
(919) 368-6452 mobile
davanzo(at)creativecomminc(dot)com
thomas(at)creativecomminc(dot)com
###