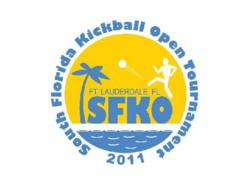 SFKO is poised to once again be providing an opportunity for kickball teams to join an exciting tournament.
Fort Lauderdale, FL (Vocus/PRWEB) February 15, 2011
The South Florida Kickball Open (SFKO) is one of the largest and most competitive tournaments in the kickball world. The 4th edition will be held on February 19th 2011 at Central Broward Regional Park in Fort Lauderdale, Florida. Last year, an outstanding 31 teams gathered in Fort Lauderdale as a testament to the importance of an active adulthood. The 2011 SFKO should once again see over 500 players to come enjoy a great event and participate in Florida's economy.
This year's SFKO field features many of the nation's top-ranked kickball squads, including the defending tournament champions from 2010, The Meatballs. Ten Florida teams grace the SFKO 2011 roster, while New York once again leads the tournament field's out-of-state representation with five squads. Other notable travelers from afar include teams from Arizona, Georgia, Massachusetts, Illinois, Texas, Virginia, and Washington, D.C.
Jerome Martin, Event Manager of SFKO, had this to say about the upcoming event, "The organizers are poised to once again be providing an opportunity for kickball teams to join an exciting tournament. We are particularly proud of the geographical reach of the South Florida Kickball Open. Seeing teams travel from as far as New York, Chicago, and Phoenix to participate is a great accomplishment and a chance for more young adults to discover our area."
As the very first tournament of the calendar year, the SFKO kicks off a series of competitive kickball events held across the country making up the Circuit National Tour. Additional confirmed tournaments include Albuquerque, New Mexico); Virginia Beach Virginia; Los Angeles, California), Atlanta, Georgia; Washington, D.C.;, and New York, New York. Each event represents an open tournament supported by Kickball365 to bring together the ultimate competitive adult kickball teams in America. The teams travel from all corners of the nation to participate in these events leading up to the prestigious Circuit Cup – a true national championship for all competitive teams, regardless of hometown league. The Circuit Cup concludes months of competitive, fast-paced, dedicated, and fun sporting for active men and women determined to make a mark in their communities.
In 2011, Kickball365 is launching its new Circuit program: a series of highly-competitive tournaments around the country that will draw the elite athletes in the sport. To make this happen, Kickball365 is working with both local and national sponsors, accepting registration from the nation's elite teams, and making a very concerted effort to identify and connect with kickballers around the country and particularly in each of the cities it will host tournaments, including Ft. Lauderdale, Albuquerque, Virginia Beach, Los Angeles, Atlanta, Washington, D.C., New York City, and Las Vegas, in that order.
"The Circuit will be the most highly competitive collection of kickball tournaments today," said Kickball365 CEO Matthew Kemph. "We have a wide range of former collegiate athletes, from football players to soccer players to baseball players to swimmers. We even have a former professional wrestler! We're excited that The Circuit has been able to attract this level of talent."
In addition to playing for bragging rights, teams frequently play for charity in each city, whether to help send more kids to camp through The Hole in the Wall Gang Camps, the Circuit's national philanthropy organization, or to prevent kids from going hungry with Share Your Strength, the designated charity for the 2011 SFKO. Even through difficult economic times, the teams have raised funds to support important causes and have pledged to continue doing so.
About SFKO
The South Florida Kickball Open (SFKO) tournament is a Kickball365 Circuit Event presented by the International Kickball Federation (IKF). It was first held in 2008 as an independent event and now serves as the kickoff event for The Crcuit's National Tourfor the first time in 2011. More information can be found at http://www.soflakickballopen.com
About Kickball365
Kickball365 was founded in 2006 as a means for players to give honest feedback on their kickball experience independent of any organization. It has grown into a structure shaping kickball across the country, facilitating the exchange of information and promoting the sport. The Circuit is a series of open tournament events supported by Kickball365 to bring together the ultimate competitive adult kickball teams in America. Learn more at http://www.kickball365.com/TheCircuit/
Contacts
For the South Florida Kickball Open:
Jerome Martin
Event Manager
For Kickball365 and The Circuit:
Matthew Kemph
Founder and CEO
(202) 683-9971
###