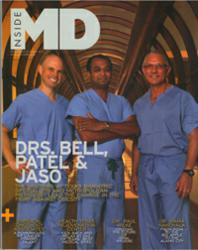 "Obesity can be a terrible disease that can put a strain on our lives and our health. But by getting help from qualified specialists, people can seek to change their destinies and live longer healthier lives", says Dr. Nilesh Patel
San Antonio, TX (Vocus/PRWEB) February 15, 2011
A new industry wide study from the New England Journal of Medicine describes some dramatic results based on Gastric Bypass Surgery - a procedure Texas Bariatric Specialists performs. The study showed that mortality rates in severely obese patients who received a gastric bypass were amazingly 92% less likely than individuals in the same weight range —who had foregone a bariatric gastric bypass— to lose their life from type 2 diabetes and its complications. The study also determined that Gastric Bypass Surgery led to savings on other related healthcare costs relating to type 2 diabetes, high blood pressure, and hypertension.
The news couldn't come any sooner as the rates for obesity (those with a BMI over 30) in the United States have reached an all time high of nearly 33% of the US adult population (CDC). Procedures like the gastric bypass have proven to be an essential element of an overall program to help individuals who find themselves in this statistic.
"Obesity can be a terrible disease that can put a strain on our lives and our health. But by getting help from qualified specialists, people can seek to change their destinies and live longer healthier lives", says Dr. Nilesh Patel founder of Texas Bariatric Specialists.
Experience and a tested hand are critical in receiving gastric bypass surgery or any bariatric procedure. Texas Bariatric Specialists is proud to be a Center of Excellence provider which ensures the highest in both surgical talent, cases completed, and follow-up care set by the American Society for Metabolic and Bariatric Surgery.
About Texas Bariatric Specialists
In the past five years, Dr. Patel's San Antonio-based Weight Loss Surgery practice has performed 2500 surgeries. Additionally, his practice has expanded to now serve major cities across Texas including Austin, Corpus Christi, Killeen, Temple, New Braunfels, Boerne, Seguin and Del Rio.
Dr. Patel is now regularly featured within "Ask the Expert" segments on local news programs, is recognized as a Centers of Excellence Surgeon by the American Society of Metabolic and Bariatric Surgery and remains an advisory board member for ObesityHelp.com. His practice continues to exceed national averages for weight management success due to surgical expertise, compassionate care and exemplary pre-surgery and post-surgical consultation services.
To Learn more about the Lap Band, Gastric Bypass, Gastric Sleeve, Gastric Band, and Failed Weight Loss Surgery procedures visit Texas Bariatric Specialists at http://www.texasbariatricspecialists.com.
###