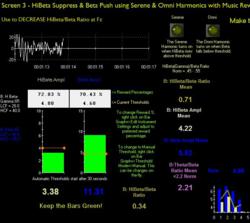 Clinical psychoneurophysiology is a natural and holistic approach to the treatment of many conditions.
(Vocus/PRWEB) February 16, 2011
When the German "Körperwelten" Body Worlds exhibition was in Vancouver, Canada in 2010, renowned psychologist and author Dr. Paul G. Swingle, was invited to describe his "brain mapping" procedure that precisely identifies symptoms and the methods used to correct brain inefficiencies. His clinic treats disorders such as epilepsy, addictions, learning disorders, traumatic brain injury and fibromyalgia.
Biofeedback Foundation of Europe 15th Annual Meeting
Munich - February 22-26, 2011
The anatomy of the "Körperwelten" exhibit is brought to life by the neuropsychophysiology being discussed in Munich at the Biofeedback Foundation of Europe's 15th Annual Meeting where Dr. Swingle will be presenting at the scientific meeting on February 24th. The title of Dr. Swingle's presentation is "Biofeedback for the Brain". In his presentation, Dr. Swingle introduces the wide range of disorders treated at his clinic in Vancouver, Canada. Topics covered include clinical psychoneurophysiology and the QuickQ & BrainDryvr method.
Dr. Swingle commented, "We normalize and optimize brain functioning using various neurotherapeutic techniques including brainwave biofeedback, brain stimulation, cranial sacral therapy and self-regulation procedures. These all assist in correcting inefficiencies in brain activity." He added, "Clinical psychoneurophysiology is a natural and holistic approach to the treatment of many conditions. After the assessment, the neurotherapy begins. Neurotherapy assists the client in changing his or her brainwave architecture."
Prior to the scientific presentation, Dr. Swingle instructs a 2-day workshop on February 22nd – 23rd entitled "Basics of the QuickQ Assessment and Braindriving". This workshop introduces the QuickQ and BrainDryvr methods. Participants learn how to record the QuickQ and to interpret the results. Methods for probing the client based on comparisons with the QuickQ clinical data base are reviewed and many cases are studied to help participants learn how to capably use Dr. Swingle's intake procedure. The details associated with selecting appropriate unconditioned stimuli for braindriving are reviewed and the methods for administering some standard Braindryvr protocols are shown. Unique concerns regarding treating clients with severe emotional trauma, chronic depression and those who are heavily medicated are reviewed.
Paul G. Swingle, Ph.D., F.C.P.A., R. PSYCH.
Dr. Swingle is a Fellow of the Canadian Psychological Association and was Lecturer in Psychiatry at Harvard Medical School. He was Chairman of the Faculty of Child Psychology at the University of Ottawa and Clinical Supervisor. He has also taught at McGill University, Dalhousie University and McMaster University. He is a Registered Psychologist in British Columbia and is (BCIA) Certified in Biofeedback and Neurotherapy. He is currently in a private practice in Vancouver, British Columbia. His most recent book, "Biofeedback for the Brain", was published by Rutgers University Press.
Workshops in London and Vancouver
Prior to his visit to Germany, Dr. Swingle is scheduled to present a 3-day workshop in London on February 18-20, 2011. Then, coming full circle, he returns to Vancouver for a 4-day workshop on "QuickQ and Braindriving – Fundamental Neurotherapy for Professionals" from March 31 to April 3, 2011.
Online Education - 2011 Webinar Series and Monthly Grand Rounds
Interested healthcare professionals are invited to learn more about BrainDriving from the comfort of their home or office by attending one of Dr. Swingle's online webinars, classes or monthly Grand Rounds sessions available in the BFE Online Shop.
About the BFE
The BFE is a non-profit foundation headquartered in the Netherlands entirely supported by corporate and non-profit organizations and individuals and through the sale of software, classes, webinars and workshops in the BFE Online Shop. Their mission is to provide professionals worldwide with a greater understanding of biofeedback. Support for the foundation contributes to the advancement of research and education in this exciting field. The foundation's advisory board comprises leading clinicians and researchers from multiple disciplines. Using innovative approaches to sharing knowledge, they aim to inspire continued growth by educating new generations of professionals.
Contact:
Carol Meyers
Education Manager
Biofeedback Foundation of Europe
education(at)bfe(dot)org
http://www.bfe.org
###