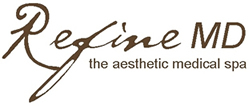 ProLipo™ is a safe and comfortable treatment. Only local anesthesia is used, unlike the general anesthesia used for traditional liposuction and recovery is quicker.
Menasha, WI (Vocus/PRWEB) February 16, 2011
RefineMD, the aesthetic medical spa is proud to announce the launch of the FDA approved ProLipo™ laser lipolysis procedure. ProLipo™ Laser Body Sculpting is a revolutionary, minimally invasive treatment used to melt and remove fat. For those areas of the body that refuse to tone up, even with diet and exercise, ProLipo™ and its ability to permanently remove fat cells may be the solution.
ProLipo™ is a laser-assisted liposuction procedure exactly like the popular Smartlipo™ that is performed while the patient is awake using only local anesthetic (no general anesthesia is required). During the procedure a narrow cannula (tube) containing a laser fiber is inserted into the skin. The laser energy delivered through the fiber liquefies the fat cells. Simultaneously, dermal tissue around the area is heated, which stimulates the fibroblasts, resulting in overall tighter skin tissue. Unlike traditional liposuction, ProLipo™ Laser Body Sculpting causes much less trauma to the tissue resulting in a much quicker recovery time. Typically patients are back to work within a couple of days and able to resume exercise after just two weeks.
"ProLipo™ is a fantastic option to sculpt and tone those problem areas that have not responded well to diet and exercise," says Dawn Rogers, MD and COO of Refine MD. "ProLipo™ is a safe and comfortable treatment. Only local anesthesia is used, unlike the general anesthesia used for traditional liposuction and recovery is quicker. In most cases, only one treatment of just a few hours is required and patients start seeing results within a week, with continued improvement over three to six months. With the ProLipo™ laser lipolysis treatment there is an added benefit of skin tightening. ProLipo™ stimulates the production of collagen, resulting in smoother, tighter skin."
The most common body areas treated with ProLipo™ are the tummy or abdomen, arms, love handles, hips and back roll. The procedure cost varies depending upon the body part being treated. RefineMD is currently offering complimentary consultations for people interested in finding out if they are a good candidate for ProLipo™.
RefineMD is hosting a body contouring seminar introducing ProLipo™ on Tuesday, March 1, 2011 at 6:00 p.m. at the Hilton Garden Inn, Kimberly, WI. The seminar is free and open to the public. Join the RefineMD medical team as they present ProLipo™ and other body slimming procedures such as Zerona™. Space is limited – RSVP by calling: 920.380.9990.
RefineMD offers the latest laser combination treatments using Sciton laser technology including ProFractional Skin Resurfacing, MicroLaserPeels, Skin Tightening and Photo Rejuvenation as well as the body slimming ZERONA™ laser. To learn more about Pro Lipo™ and the other treatments offered at RefineMD call 920.380.9990 or visit the website at http://www.refinemd.com.
About RefineMD
RefineMD offers the latest in non-invasive cosmetic medical procedures. RefineMD is dedicated to providing the highest quality medical aesthetic services in a comfortable, relaxing environment. A focus on creating individualized treatment plans and personalized doctor-client relationships is what sets RefineMD apart in the Fox Valley.
The dedicated, well-trained physicians and skincare specialists that make up the RefineMD team, all share a passion for aesthetic medicine and a genuine interest in applying technical innovation and cutting-edge technology to meet and exceed the needs and expectations of their clients.
To learn more about the treatments offered at RefineMD including ProLipo™, ZERONA™, Fractionated Skin Resurfacing, MicroLaserPeels, Photo Rejuvenation, BOTOX®, JUVEDERM®, Skin Tightening, medical grade skincare, chemical peels, microdermabrasion and other cosmetic treatments visit the RefineMD website at http://www.refinemd.com or contact us at 920.380.9990 to schedule a complimentary consultation.
# # #