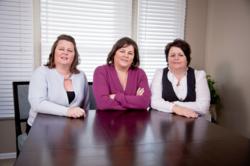 Illness, money concerns, and distance are just a few of the most common senior care issues that adult siblings face.
Omaha, NE (Vocus/PRWEB) February 22, 2011
Family caregiving can be stressful under any circumstances. But certain situations are hot-button triggers. These events can make the life of siblings caring for their elderly parents more difficult and could lead to family conflict.
That's why the Home Instead Senior Care network developed the 50-50 Rule program to help adult siblings with a wide range of topics, from care of parents to family inheritance issues. The 50-50 Rule refers to the average age (50) when siblings are caring for their parents as well as the need for brothers and sisters to share the care planning responsibility 50-50.
Jeff Huber, president and Chief Operating Officer of the Home Instead Senior Care network, is very familiar with the types of conflicts that arise around family caregiving. He describes illness, inheritance, and distance as just a few of the most common senior care issues that adult siblings and their families are likely to face."
Illness -- A senior loved one who becomes ill or faces declining health can leave a family facing all sorts of potentially difficult issues. Who provides the additional care? Is there a team approach or does one sibling bear the brunt of the caregiving? Family members' differing opinions and the changing needs of a senior can exacerbate the situation.
Money -- Money matters often complicate life for seniors as well as their adult children. The recent recession left many older adults depleted of their savings while others may be outliving their nest eggs. Families can be forced to make tough caregiving decisions when their loved ones' finances factor into the equation.
Inheritance -- While some families contend with a lack of funds to provide care for their loved ones, others have the temptation of a family inheritance influencing their decisions. If one sibling is encouraging a parent to spend the siblings' inheritance and another is coaxing that parent to save the money, trouble is sure to ensue.
Distance -- While absence may make the heart grow fonder, long-distance caregiving certainly doesn't make life easier for a family caregiver. The siblings who live in the same town or city as their parents may be stuck with most of the caregiver work. According to research conducted for the Home Instead Senior Care network, one sibling is responsible for the bulk of the care of Mom and Dad in 43 percent of families, which can contribute to the deterioration of sibling relationships. Siblings who live far away can feel left out or, if they do speak up, viewed as intruders by the primary family caregiver.
Stress -- Life is stressful and family caregiving oftentimes makes it more so. Adult caregivers who have started a new job, are raising children or caring for their own spouse can soon become overwhelmed with stress when elderly family members need help. Those who are bearing the brunt of caregiving may resent siblings who are unable or unwilling to help. In fact, 46 percent of caregivers who say their sibling relationships have deteriorated say their brothers and sisters are unwilling to help, according to research conducted for the Home Instead Senior Care network.
"Sometimes families just require a little extra help to ease the tensions that caregiving can generate," Huber noted. "Home Instead Senior Care local offices provide the caregiving assistance that families need as well as resources such as the 50-50 Rule guide to real-life family situations and tips for coping with these issues. For additional information including a downloadable version of the guide, consumers can visit the Solving Family Conflict website.
About Home Instead Senior Care
Founded in 1994 in Omaha by Lori and Paul Hogan, the Home Instead Senior Care® network is the world's largest provider of non-medical in-home care services for seniors, with more than 900 independently owned and operated franchises providing in excess of 40 million hours of care throughout the United States, Canada, Japan, Portugal, Australia, New Zealand, Ireland, the United Kingdom, Taiwan, Switzerland, Germany, South Korea, Finland, Austria, Italy and Puerto Rico. The Home Instead Senior Care network employs more than 65,000 CAREGiversSM worldwide who provide basic support services – activities of daily living (ADLs), personal care, medication reminders, meal preparation, light housekeeping, errands, incidental transportation and shopping – which enable seniors to live safely and comfortably in their own homes for as long as possible. At Home Instead Senior Care, it's relationship before task, while continuing to provide superior quality service that enhances the lives of seniors everywhere.
# # #