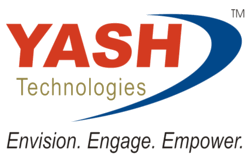 East Moline, IL (Vocus/PRWEB) February 16, 2011
YASH Technologies™, a leading technology services and outsourcing partner for global companies, today announced the successful upgrade of Boston Medical Center's implementation of SAP solutions to the SAP® ERP application 6.0. The upgrade was successfully completed on budget and in less than four months.
With more than 30,215 admissions and 844,184 patient visits in 2010, SAP solutions are an integral part of daily business processes for Boston Medical Center. Upgrading its platform to the newest release of SAP ERP would allow Boston Medical Center to remain compatible with SAP's release strategy and further ensure optimal maintenance and support.
"We have worked with YASH previously on a variety of initiatives involving SAP solutions, and once again YASH has delivered another successful implementation in terms of timelines and budgetary concerns," said Annie Choquette, associate director, Financial Information Systems, Boston Medical Center. "We have been able to measure a 72 percent increase in our system performance. YASH has won us over and over with its high degree of professionalism and proficiency of the system implementation knowledge."
Prior to the successful go-live implementation in November, YASH began the initiative by utilizing PathFinder, its proprietary pre-upgrade assessment tool that mitigates unforeseen risks, provides fixes via road maps, and speeds upgrade implementation cycles. It provides precision details for deeper, more thorough impact analysis. Based on those results, YASH migrated Boston Medical Center's operating system from a 32-bit platform to a 64-bit platform to better support its 500 users. YASH utilized SAP best practices as well as proprietary methodologies for the implementation, which sped the realization of benefits for Boston Medical Center. The entire upgrade was completed within 19 weeks, including two weeks of post-live support and two full payroll cycle tests.
"We are pleased to have been selected once again as the strategic partner for this upgrade," said Kevin Jansen, executive vice president, YASH. "With SAP ERP 6.0, Boston Medical Center can stay focused on delivering exceptional health care to its patients and community, while mitigating risks and lowering operational costs."
About Boston Medical Center
Boston Medical Center is a private, not-for-profit, 639-licensed bed, academic medical center affiliated with Boston University School of Medicine. Committed to providing high-quality health care to all, the hospital offers a full spectrum of pediatric and adult care services including primary and family medicine and advanced specialty care with an emphasis on community-based care. Boston Medical Center offers specialized care for complex health problems and is a leading research institution. Boston Medical Center and Boston University School of Medicine are partners in the Boston HealthNet—15 community health centers focused on providing exceptional health care to residents of Boston. For more information, please visit http://www.bmc.org/.
About YASH Technologies
YASH Technologies focuses on customer success. As a leading technology services and outsourcing partner for medium and large global customers, we leverage technology and our flexible delivery models to drive performance and business value throughout a customer's enterprise. YASH's comprehensive service approach incorporates a holistic view of our customers that extends beyond delivery. This approach integrates enterprise solutions and services, proprietary best practice offerings, strategic application and maintenance outsourcing, as well as consulting and integration services. YASH is a SEI CMMI (Level 3) and an ISO 9001:2008 certified company with U.S. and India headquarters and regional sales and development offices spread across three continents. YASH is also part of a select group of companies that are SAP-certified global providers of application management services. For more information, please visit http://www.yash.com or email info(at)yash(dot)com.
SAP and all SAP logos are trademarks or registered trademarks of SAP AG in Germany and in several other countries.
All other product and service names mentioned are the trademarks of their respective companies.
# # #