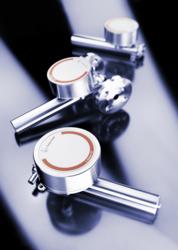 Ashland, Virginia (Vocus/PRWEB) February 17, 2011
Anton Paar, the world leader in density measuring equipment, is pleased to announce the release of the L-Dens 427 T Ex online density meter. The new L-Dens 427 T Ex is accurate, compact, flexible to install, and cost efficient.
The L-Dens 427 T Ex completes the L-Dens 427 family of density sensors, which combine an accuracy of 1x10-4 g/cm3 with a compact design. The L-Dens 427 T Ex model is an explosion-proof version that accurately measures density and temperature. It automatically calculates temperature-corrected density, API gravity, and a variety of concentrations based on density. The explosion-proof rating makes it ideal for aggressive environments. The Modbus, HART, and 4-20 mA outputs make connection to any flow computer or PLC extremely easy.
The L-Dens 427 family of density sensors provides ultimate flexibility. Swagelok, DIN, and ANSI connections are all available as standard, with custom-made connections also possible. In addition to the communication options listed above, it is also possible to connect to an evaluation unit, or simply to use a frequency output to connect directly to a flow computer.
Here are just a few of the possible applications:

Online density measurement
Online API measurement
Online concentration measurement
Mass flow rate determination in combination with a volumetric flow meter
Product differentiation and/or phase separation
Product blending
Quality control
Fiscal measurements / custody transfer
For more information on the new L-Dens 427 T Ex, please contact us at 1-800-722-7556, or visit our website.
# # #