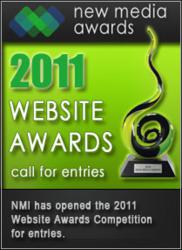 Size and budget are not a consideration in judging -- focus is on recognizing Websites who dynamically serve their audience's needs.
New York, NY (PRWEB) February 16, 2011
The New Media Institute (NMI), today opened its 2011 Website Awards Competition for early registration (reduced entry fee).
"We're looking for website entries that are far more than just well designed. Websites will be judged based on innovation, design, user-friendliness, how dynmaic they are, and most importantly -- how well they serve their audience's needs," explained Barbara Eber-Schmid, NMI's Executive Vice President. "Budget and size are not a consideration in judging. We pride ourselves on recognizing achievements of both smaller local websites and larger international websites."
Early registration closes on March 16th.
For more information on the web awards competition, go to: http://www.newmediaawards.org.
The New Media Institute is dedicated to educating all about new media, serving as a resource and promoting best practices. In addition to its New Media Awards program, NMI covers new media news, publishes white papers, acts as a resource for facts/statistics related to new media and manages the New Media Professionals Association.
# # #