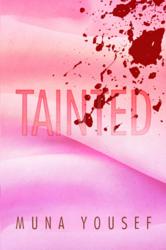 Yonkers, NY (Vocus/PRWEB) February 17, 2011
Tainted, a new book by Muna Yousef, has been released by RoseDog Books.
Tainted is a romantic thriller that contains a psychological twist. Ann Skylander, a naive, self-conscious young woman, moves to Orange County, California in hopes of forgetting her tragic past and abusive childhood. When she is seduced by Ben Thompson, a handsome young man who attends her university, Ann believes luck has finally struck her at eighteen. Because of her loveless childhood, Ann is completely blind to Ben's anomalous behavior and excuses it for passion. She slowly grows more detached from the rest of the world, while Ben takes her on an emotional and erratic rollercoaster ride.
Author Muna Yousef is a twenty-six-year-old mother of two. Although she is a stay-at-home mom, her real passion belongs to the written word. Muna loves to write about sweet romances and thrilling adventures, and she also enjoys writing poetry. She loves reading books from a variety of genres, as well.
Muna spends most of her time playing with her children and baking yummy treats. Her hobbies include swimming, running, cooking, and watching movies.
Tainted is a 144-page paperback with a retail price of $18.00. The ISBN is 978-1-4349-8278-0. It was published by RoseDog Books of Pittsburgh, Pennsylvania. For more information or to request a review copy, please visit our virtual pressroom at http://www.rosedog.com/pressroom or our online bookstore at http://www.rosedogbookstore.com.
# # #