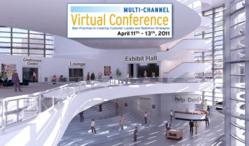 "I loved the ability to attend several sessions while allowing me to "attend" to my other tasks. It felt good to know…while attending a week long symposium I wasn't missing deadline."
Montvale, NJ (Vocus/PRWEB) February 17, 2011
An increasing number of customer touch points are fueling dramatic change around the world…in every area of human interaction. They are also redefining the way in which businesses worldwide communicate with, and care for, their customers.
On April 11th - 13th, CRMXchange, in collaboration with Yankee Group, Vanguard Communications and UniComm Consulting, will present an insightful, online conference focusing on the major challenges faced by customer care professionals in managing the various customer touch points within their organization.
It's everything you need to know, with no travel costs or time lost out of the office.
Industry experts on the integration of multiple channels will offer unique insights, answer questions and provide a wealth of ideas to attendees at the first "Multi- Channel Virtual Conference." Speakers include: Sheryl Kingstone, Yankee Group; Elaine Cascio, Vanguard Communications; and Don Van Doren, UniComm Consulting. These speakers will be joined by a marquee list of sponsors and vendors including Avaya, Raytheon BBN Technologies, Siemens Enterprise Communications and USAN.
The keynote speech, formulating a multichannel strategy and plan, will be given by Sheryl Kingstone of the Yankee Group. Other key presentations will focus on who owns the channels, cultural issues, getting organizational buy-in for a seamless channel strategy; best practices for implementing and managing the multichannel customer experience; and supporting customer interaction strategies with innovative technology.
In real-time over three days, attendees will meet with industry experts and colleagues who will share insightful business solutions. The conference is fully interactive: participants will attend learning sessions as they would in an on-site conference, participating in the sessions of greatest value to them. Additionally, businesses can invite all customer care professionals from an organization to participate - a benefit that would be unrealistic to achieve for an on-site conference.
The conference exhibit hall will offer information about leading products and solutions. Attendees will be able to download free whitepapers and articles, and watch demos. They will learn what others are doing in their contact centers, meet colleagues, pose questions to presenters and offer their own insights in the online lounge.
All sessions will be recorded and available on demand for 14 days following the conference — giving those who are unable to attend the opportunity to view the missed sessions.
To participate in this dynamic, interactive conference, contact Larry Matte or Sheri Greehaus at (201)-505-1743.
# # #