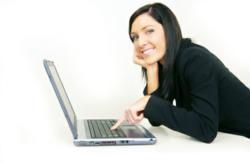 Scottsdale, AZ (Vocus/PRWEB) February 21, 2011
Building a website just got even easier! Act Now Domains, one of the leading providers of websites on the internet today, recently introduced a new "make your own website" video that provides a fun, fast paced learning experience of the website making process. The short, entertaining video tutorial provides a fun, creative way for beginners and experienced users alike to learn how to make a website. In less than two minutes visitors are able to see just how easy it is to create their own internet presence.
The introduction of this new video marks the continuation of the highly successful "Series of Learning" program that was recently launched by Act Now Domains. The tutorial guides in the educational series provide users with a fun, pre-buying experience that shows them how easy and simple it is to build a website as well as how fun it is. The entertaining How to Build a Website video breaks down building a website into three easy steps and shows customers how simple it is to create a new website.
The video is an ongoing effort on the part of Act Now Domains to lessen the anxiety and confusion many beginners feel before they begin the website making process. "Our website maker is the easiest to use on the internet as well as the most user friendly ," said Allison Lee, Vice President of Development for Act Now Domains. "Our new video shows users not only how to make a website but also how fun and easy the whole process is. Since our website builder has over 1500 template designs to select from as well as over 26,000 professional images, even the most basic beginner can build a website that looks amazing."
The brief instructional video provides visitors with a unique look at developing their internet presence. The 'build your own website' video shows not only how to create a website but also easy ways that beginners can individualize their web presence. This is achieved through the use of a variety of add-ons that easily let customers put their own special stamp on their website through videos, images, social media, music and much more with just a simple click of a button.
About Act Now Domains
Act Now Domains is a leading provider of internet services that enable individuals and businesses to build, maintain and promote an online presence. Act Now Domains provides inexpensive domain registration of over 30 domain extensions as well as website builders, hosting, ssl certificates and many other web related products.
For more information about Act Now Domains, please visit http://www.ActNowDomains.com
###