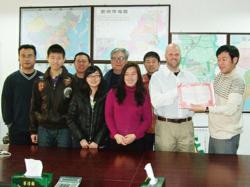 Small and Medium size business in the USA need the knowledge transfer of these great opportunities. This new trade initiative between Jiaozhou and the USA will create that.
Los Angeles, CA (Vocus/PRWEB) February 16, 2011
TopTenWholesale®-Manufacturer.com® CEO Jason Prescott is pleased to announce an Agreement between Manufacturer.com, China Mart Group USA and the Chinese Jiaozhou Investment Bureau to promote trade between the U.S. and China by helping Chinese companies establish a presence in the U.S. for international trade.
The Jiaozhou government named Jason Prescott and PMF Bancorp's Stephen Perl as Trade Ambassadors of the Investment Promotion Bureau of Jiaozhou, Quingdao, China. "Overseas expansion and maintaining a global business view are paramount for succeeding in today's economy. I am deeply honored to accept my nomination from the city of Jiaozhou on behalf of China Mart and Manufacturer.com®," said Jason Prescott on accepting the award. "Small and Medium size business in the USA need the knowledge transfer of these great opportunities. This new trade initiative between Jiaozhou and the USA will create that," he added.
The marketing-trade agreement calls for cooperation between the above named groups to promote trade between the U.S. and China in the following manner.

Mutual investments in promoting trade between the two countries.
Investment of resources by each group for mutual benefit.
Participation in Trade Shows like The National Hardware Show and ASD Show.
Sharing of office space and mutual participation in corporate and promotional operations in the U.S. and China.
o The Jiaozhou group will occupy an office in the China Mart Los Angeles facility.
o The China Mart Group will have offices in the Jiaozhou Government Building in China.

All parties will exchange website links and create joint marketing pages.
ChinaMart will promote the Jiaozhou government through its media resources such as online videos and blog posts.
Jiaozhou will promote China Mart's services to its suppliers in Jiaozhou, China.
Manufacturer.com®, owned by JP Communications INC, will provide marketing support services to the Jiaozhou government group and China Mart.
This landmark agreement was fostered by China's recent "Go Abroad Policy" with support from the U.S. government and organizations like the World Trade Center Association in Los Angeles-Long Beach, CA.
"The China Mart Group plays an important role in the international trade between Los Angeles and China. They have facilitated Chinese companies entering the U.S. market successfully. This is beneficial to the development of our economy," said World Trade Center Association Los Angeles-Long Beach President Vance Baugham, who is also a representative of Los Angeles County foreign investment and trade development.
"President Hu's visit was designed to create new business and cultural bridges between the two world super powers. Politics needs to follow trade. Trade should not follow politics, because trade is the underlying engine for our economies. The politics have set the stage for us, and now we should further develop trade through unique business platforms like the China Mart" said Stephen Perl.
Los Angeles China Mart offers a U.S.-China platform online, as well as offline marketing services to assist Chinese manufacturers in opening the U.S. market and establishing U.S. branches. Resources provided include showrooms, sales force, and immigration services. Manufacturer.com™ is a leading B2B product sourcing website listing international wholesalers and manufacturers. 1st PMF Bancorp is the largest privately owned trade finance platform based in the U.S. with dedicated programs for financing Chinese manufacturers. The combination of these resources and exchange of services with the Chinese Jiaozhou Investment Bureau will go far in promoting trade between China and the U.S.
"Los Angeles is not only the manufacturing capital of America. It also has the largest Chinese population in the U.S. Fifty-six percent of all imports to the U.S. come into the port at Los Angeles. California's economy is the largest of any state in the U.S., and is the eighth largest economy in the world. It makes perfect sense for Chinese companies set up their U.S. branches in Los Angeles. BYD, Air China and many other Chinese big corporations have all successfully established their headquarters in Los Angeles, " said Stephen Perl.
About Manufacturer.com®
Manufacturer.com (http://www.Manufacturer.com) helps buyers quickly source products, finding the right suppliers for profitable business transactions. Suppliers can use Manufacturer.com to easily list their companies and will be found by millions of buyers. Importers, exporters, wholesalers, retailers, independents, flea marketers, convenience stores, charities, discounters, auctioneers, dropshippers and entrepreneurs all use Manufacturer.com to find and establish valuable trade partners.
About China Mart®
China Mart® is the largest offline sales, service, and immigration platform in North America currently operating, dedicated to opening the North American market to Chinese manufacturers (http://www.ChinaMartUSA.com).
About 1st PMF Bancorp
1st PMF Bancorp is the largest privately owned trade finance platform based in the U.S. with dedicated programs to financing Chinese manufacturers. Since 1985, 1st PMF Bancorp has financed manufacturers and wholesalers globally. PMF has specialties in trade finance of general merchandise products between the U.S. and China. PMF has many financial products to support growth domestically and internationally of Chinese companies offering a host of credit insurance, escrow/payment system, and other services.
About TopTenWholesale.com®
TopTenWholesale® (http://www.TopTenWholesale.com) is the leading online wholesale directory and search engine for connecting resellers and buyers of general merchandise in the global and domestic trade directly with wholesalers, manufacturers, distributors, dropshippers, importers, exporters, and other types of suppliers. Use TopTenWholesale.com to search from over 100 wholesale product categories, and over 3,000 wholesalers and manufacturers. Find the hottest wholesale products online, including: wholesale jewelry, general merchandise, closeouts, handbags, apparel, gifts, electronics, novelties, toys, and much more. Connect with domestic and global wholesale companies and products today!
About JP Communications INC
JP Communications INC publishes the leading B2B Wholesale, Manufacturer Product Sourcing WebSites in the USA (Manufacturer.com, TopTenWholesale.com) and "Manufacturer.com The Magazine," a trade magazine distributed in North America that only targets wholesaler readers (distribution is intended be more than 20,000 large wholesalers per month). The online network includes Manufacturer.com®, Top Ten Wholesale®, WholesaleU® and OffPrice Network®. JPC also has various media channels on their sites: Video, Blogs, News, Forums and Newsletters.
###