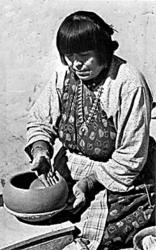 All the earth colours of the painter's palette are out there in the many miles of badlands
--Georgia O'Keeffe
Santa Fe, NM (Vocus/PRWEB) February 16, 2011
http://www.sevendirections.net/english/2010featured/notable_women.html
New Mexico is full of remarkable characters who have made indelible marks on the local landscape, culture, and heritage of one of the West's wildest places. This spring is your chance to book a trip that will give you insight to the Notable Women of New Mexico, including Mabel Dodge Luhan, Georgia O'Keeffe, and Maria Martinez.
Undeterred by the rugged landscape or complicated politics, these women made the Land of Enchantment home, creating some of the country's liveliest art and carving out celebrated lifestyles in a seemingly inhospitable desert. On this tour, you will have hands on experiences in the landscape and homes of some of America's most intriguing female characters, including:
Starting in Taos—home to the longest continually inhabited building in North America and UNESCO Heritage site, Taos Pueblo—you will visit the haunts of Mabel Dodge Luhan. An east coast heiress with a penchant for the flamboyant, she settled in Taos, marrying a local Native named Tony Luhan, and creating a storm of creative activity for the most noteworthy philosophers, artists and thinkers of the time—D.H. Lawrence, Ansel Adams, Martha Graham, Carl Jung and others came to call the Luhan home their own.
Next you will head for O'Keeffe Country to find out why this rugged landscape altered the work and life of Georgia O'Keeffe, one of America's greatest 20th century painters. Known for her large-scale paintings of flowers and plants, O'Keeffe lived largely off the grid in her Ghost Ranch residence.
Winding your way down the Rio Grande corridor, you will find yourself at San Ildefonso Pueblo to experience authentic Native art. Maria Martinez's iconic "black on black" pottery is world famous, but as she recreated the ancient look of the Pueblo people in the early 1900s, she had no way of knowing just how far reaching her influence would be. Her work is featured in the Smithsonian, and her great-granddaughter Barbara Gonzales continues to make influential works on tribal lands.
Later, in Santa Fe, you will be able to visit the Georgia O'Keeffe Museum, the only museum in the country dedicated solely to a woman. In the City Different you will also visit an adobe estate called El Delirio, built by two sisters from New York. The estate now houses works of art and cultural significance.
Price: $420 per person, in a double room. Single supplement: $338
Price includes 2 nights at the Historic Taos Inn, 1 night at the Hotel Santa Fe, a detailed itinerary, maps and reservations, NM tax. Specific accommodations are available upon request. For a guide on day 2 and 3, $280 per day per group, up to 6 people.
For more information, please visit: http://www.sevendirections.net or contact
Patrizia Antonicelli: 505 820 3305 or 877 992 6128
info(at)sevendirections(dot)net
For press inquiries, please contact
Jennifer Hobson
JLH Media
505 603 8643
Jennifer(at)jlhmedia(dot)com
###