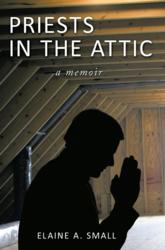 Belleville, Ontario (Vocus/PRWEB) February 17, 2011
Elaine A. Small's new book, Priests in the Attic, tells the author's life story of love loss, faith and finding her way back through redemption and hope.
The story is cast in Toronto during the 50s, 60s and 70s, detailing Small's emotional and spiritual journey. Small describes this as a time of radical change when she was conflicted with daring to pursue her dreams while married and raising children. Her story chronicles the conflicts encountered during her extended quest for meaning in life—from her short-lived, but successful career as a nightclub singer to her days as a European fashion buyer.
In this three-part memoir, her story begins at her father's funeral, and then reverts to describe her unusual childhood growing up Ukrainian in Winnipeg, where her life-long love of music was born. Part two is an account of her addictive ambitions through a myriad of success and failures in careers and family. The story finishes by relating her struggles of trying to find her way back home and her rebirth of faith.
The reviews are outstanding; Priests in the Attic is called "truly amazing" and "hard to put down."
"Memoirs of such singers as [Elaine's] are rare. Her book belongs in every music library in Canada....The insights on women in the workplace during the 1960s and 1970s are unique and unusually sincere."—W. Sydorenko, editor of Cathedral Bells.
In this non-fictional memoir, the author pulls the reader in and gives hope to the Boomer/Zoomer generation to never stop dreaming.
"'There were 17 priests at my father's funeral.' So begins my literary memoir, a tale of love and loss cast in Toronto during the tumultuous 1950s-'70s," Small said. "These early years of my journey take you through much success and some failures in careers, marriages and family life while describing some tough lessons learned on my rocky road toward personal faith."
Priests in the Attic
Soft cover 6x9
Approximately 316 pages
ISBN: 97814490114
$10.95 soft cover/$15.95 hard cover
Available at the publisher http://www.authorhouse.com, amazon.com, barnesandnoble.com, chapters.com, amazon.ca, borders.com and booksamillion.com
About the author, Elaine A. Small:
Elaine A. Small grew up a minister's daughter in a small town just north of Winnipeg. Always a dreamer, Small spent her life learning and trying new experiences. She has been an X-ray Technician/Cancer therapist, a singer for the Toronto Conservatory, a European fashion buyer, fashion storeowner, real estate agent and investor, motel/restaurant owner and student, all while raising a family. In 2001, she received her masters in English from York University in Toronto and is now pursuing a career in writing. Priests in the Attic is her first book. For further information and book reviews, view the author's website at http://www.priestsintheattic.com.
Contact
Editors: For review copies or interview requests, contact:
Aimee Morgan
Tel: 317-602-7137
Email: amorgan(at)bohlsenpr(dot)com
(When requesting a review copy, please provide a street address.)
# # #