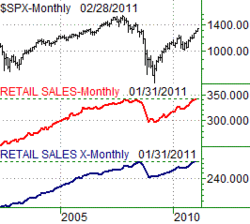 Monthly consumer spending in December of 2010 and January of 2011 was as strong as it was at the end of the growth cycle in late 2007.
San Diego, CA (Vocus/PRWEB) February 16, 2011
The Rhino Report's Chief Analyst James Brumley has compiled recent retail spending data verifying that combined consumption of all retail goods including autos, auto parts, and restaurant sales has nearly reclaimed peak levels from late 2007 and early 2008. Assumptions that the economy and consumers are "years away from a full recovery" are largely unsubstantiated, as suggested by the historical data.
Each month, the U.S. Census Bureau posts updated figures of total retail consumption in the United States. The vast majority of these investor-data providers only examine the change since the prior month. In January of 2011, retail sales were higher by 0.3% with our without auto and auto parts sales.
While valuable data, when delivered only one month at a time (and with no bigger-trend context offered), the Bureau's numbers don't often prove useful to investors making long-term buy or sell decisions.
In response to that deficiency, James Brumley has recently compiled a decade's worth of raw retail sales date to visually illustrate actual long-term retail sales trends. The most recent update of this total sales figure indicates that monthly consumer spending in December of 2010 and January of 2011 was as strong as it was at the end of the growth cycle in late 2007.
Retail sales, ex-autos and ex-restaurants, reached $274 billion in December, and stayed firm at $271 billion in January. December's level matched the peak level from July of 2008.
Retail sales including autos but ex-restaurants came in at $341 billion in December of last year as well as in January of this year. The prior peak was $342 billion in November of 2007.
Neither number is adjusted to account for inflation, but Brumley adds that inflation has been negligible thus far.
"This is essentially a case where investors as well as the media are so consumed by the month to month progress - expressed as a percentage change - that they lose sight of the bigger trend, and that's the one that actually matters. While the actual retail sales data paints a compelling picture of consumer health, it's just one of many data sets that are telling a similar story. Investors simply don't know about them because the media doesn't take time to tell a story completely."
For more information on how you can access this chart as well as all other long-term economic/investment charts, the Rhino Report web site is located at: http://www.rhinoreport.com
About The Rhino Report
The Rhino Report is a complete solution providing investors and traders with disciplined short-term and long-term market calls, as well as specific stock recommendations from a proven proprietary system that incorporates both fundamental and technical analysis. Its reliable and timely investment newsletters are delivered during trading hours, allowing investors and traders the necessary time to act before anyone else.
Members receive in-depth sector analysis to help them identify current hot spots in the market and comprehensive economic analysis to determine forward-looking market trends and sentiment. The Rhino Report also provides its Member with password protected access to an exclusive Member Login area to view specific stock recommendations, portfolio performance, report archives and much more.
The Rhino Report provides a whole look at the equity markets and explains in detail how one can generate maximum returns with minimal risk exposure. Investors are encouraged to visit The Rhino Report at: http://www.rhinoreport.com for more information on its advisory services and how to become a Member.
Contact:
James Brumley
The Rhino Report
619-352-0394
Source: The Rhino Report
###